Shortbread Caramel Chocolate Bars with Almonds
These Shortbread Caramel Almond dessert bars are a wonderful combination of a crunchy shortbread base and a creamy caramel topping with toasted almonds. Add a sprinkling of sea salt to the top of the caramel and you have the perfect sweet and salty treat.
This post may contain affiliate links. Please refer to the terms page for more information.
These Almond Bars with a Shortbread Crust are simple to make and do not require the use of a candy thermometer. Just keep an eye on the color of the caramel as you are making it and don't walk away in the middle of it!
Cut the bars any size you want but be warned they pack a lot of sweetness from the caramel topping.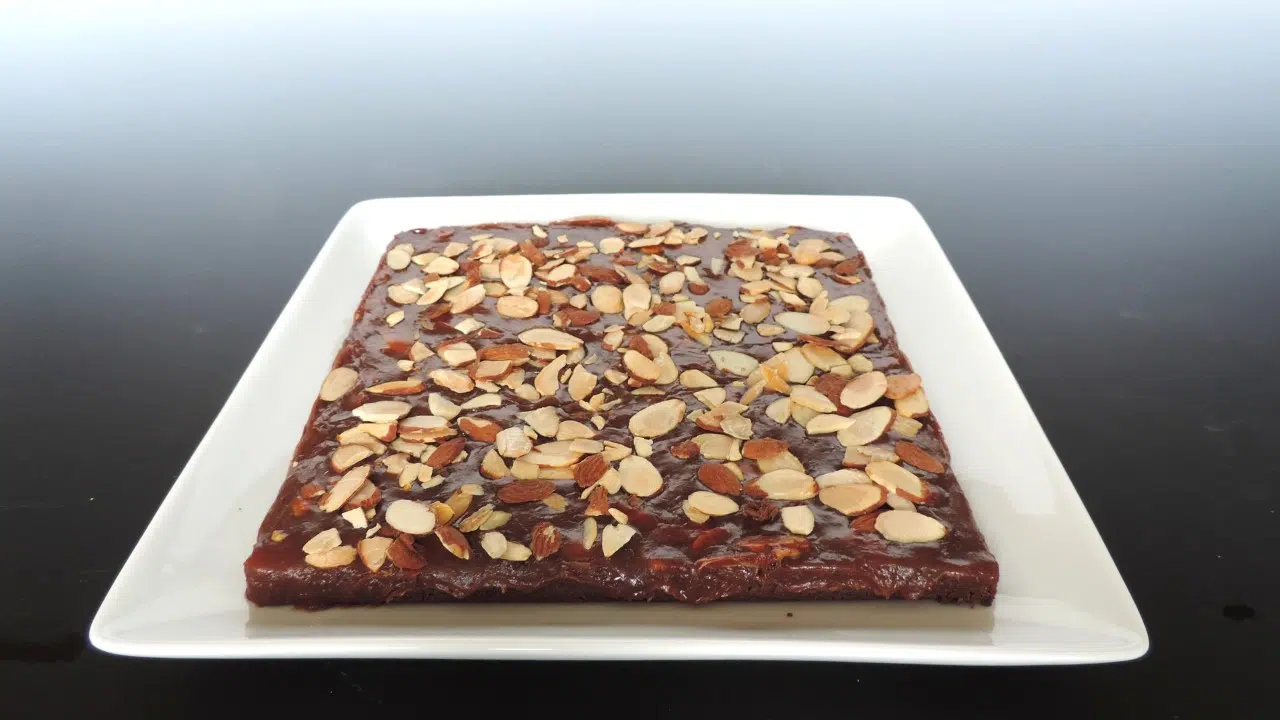 Tips for Making the Perfect Shortbread Caramel Almond Bars
Prepare the pan:
The bars are made in a 8" square pan. To make removal of the dessert easier consider cutting two strips of parchment paper 8" x 12", butter or spray the bottom and sides of the pan. Place the two strips crossing each other so the paper extends beyond the top of the pan. After the shortbread bars finish setting you simply pull upward on the paper and it will easily remove from the pan.
Ingredient Tips:
Bring your butter to room temperature before starting the shortbread base. This will allow the butter and sugar to aerate better.
This is a shortbread crust so it will not be formed into a wet dough. It will be crumbles similar to Figure A below. Distribute the dough evenly in the pan and press it down lightly with your hands.
Making the Caramel for the Shortbread Cookie Bars
Measure all of the ingredients needed for making the caramel before starting. This process will go quickly and you don't want to be searching for something while your caramel burns!
Start by combining sugar, expresso (or strongly brewed coffee) and corn syrup in a heavy bottomed saucepan.
Begin heating over medium-high heat and stir briefly to combine. Keep a glass of water and a pastry brush nearby and use this to wash down any sugar granules that form on the side of the pan.
Stop stirring once the sugar mixture starts to boil. Keep an eye on the pot and don't walk away for too long as the syrup can change quickly. As soon as it turns an amber color (see Figure B) change the heat setting to low, add the butter and heavy cream. Take a step back when you do this as the mixture may sputter and, trust me, it is hot!
Stir the caramel until the butter is melted. Remove from the heat, add the chocolate and stir until the chocolate is melted. Stir in the sea salt.
Pour the caramel over the cooled shortbread base and sprinkled with almonds. Optionally sprinkle a dash of sea salt over the top of the treat.
FAQs:
What is shortbread?
For a fun read on the history of shortbread, consider reading this article by British Food.
How should the shortbread almond bars be stored.
These Almond Caramel Shortbread Bars may be stored at room temperature. The bars should be placed in an airtight container. Place the container in the fridge if your room is warm (over 75 degrees F).
Caramel Almond Shortbread Bars
A crunchy chocolate base topped with smooth caramel and toasted almonds.
Ingredients
Shortbread
120

Grams

all-purpose flour

(1 Cup)

22

Grams

Cocoa Powder, unsweetened

(¼ Cup)

65

Grams

Butter, room temperature

(1 stick / 8 Tablespoons)

66

Grams

Granulated Sugar

(⅓ Cup)

½

teaspoon

Expresso Powder
Caramel Almond Topping
200

Grams

Granulated Sugar

(1 Cup)

2

tablespoon

Brewed Expresso, cooled

1

tablespoon

Corn Syrup (light or dark)

4

Fluid Ounces

Heavy Cream

(½ Cup)

30

Grams

Butter, cut into cubes

(2 Tablespoons)

60

Grams

Chocolate, bittersweet

(⅓ Cup)

½

Cup

Sliced or Slivered Roasted Almonds

½

teaspoon

Sea Salt
Instructions
Prepare 8" Square Baking Pan
Cut two 8" x 12" strips of parchment paper. Spray pan with nonstick baking spray and place strips in bottom of pan so the parchment extends over the four pan sides.
Shortbread
Combine expresso powder, cocoa and all-purpose flour in a small bowl

Using a hand mixer fitted with the paddle attachment mix the butter and sugar until light and creamy (2 - 3 minutes), scraping side of bowl as needed.

Scrape down the sides of the bowl and add the expresso/flour mixture/cocoa to the mixing bowl. Mix on the lowest speed for 2 minutes. Scrape down the sides of the bowl and mix for another 2 minutes.

The mixture should look sandy. If there are large chunks of butter in the bowl, mix on low for another minute or two.

Pour the dough into the bottom of the prepared pan. Using your hands, lightly press the dough down so it evenly covers the pan.

Bake for 20 - 22 minutes.

Let cool completely before adding topping.
Caramel Almond Topping
Place sugar, expresso and corn syrup in a heavy-bottomed saucepan.

Begin heating over medium-high heat, stir ingredients to combine taking care not to get any sugar on side of saucepan.

Mixture will begin to boil. Stop stirring and let syrup boil until it turns an amber color. Immediately lower heat to low and add butter and cream. Use caution as mixture may sputter. Stir until combined.

Remove from heat and stir in chocolate bits until they melt. Add a dash of sea salt if desired.

Pour caramel over pan of shortbread. Let cool completely and place in refrigerator for at least 30 minutes.

Unmold by pulling up on sides of parchment paper and transfer to a cutting board. Remove parchment from bottom of shortbread. Cut into desired shapes.