An Easy Caramel Mousse Cake Recipe - Light and Fluffy!
This Caramel Mousse cake recipe makes the perfect light dessert. It's made with a rich chocolate cake soaked in a sugar syrup and topped with a creamy caramel mousse. Make this dessert the day before you want to serve it so it sets up properly. In a rush? Not a problem, put it in the freezer for a few hours before unmolding.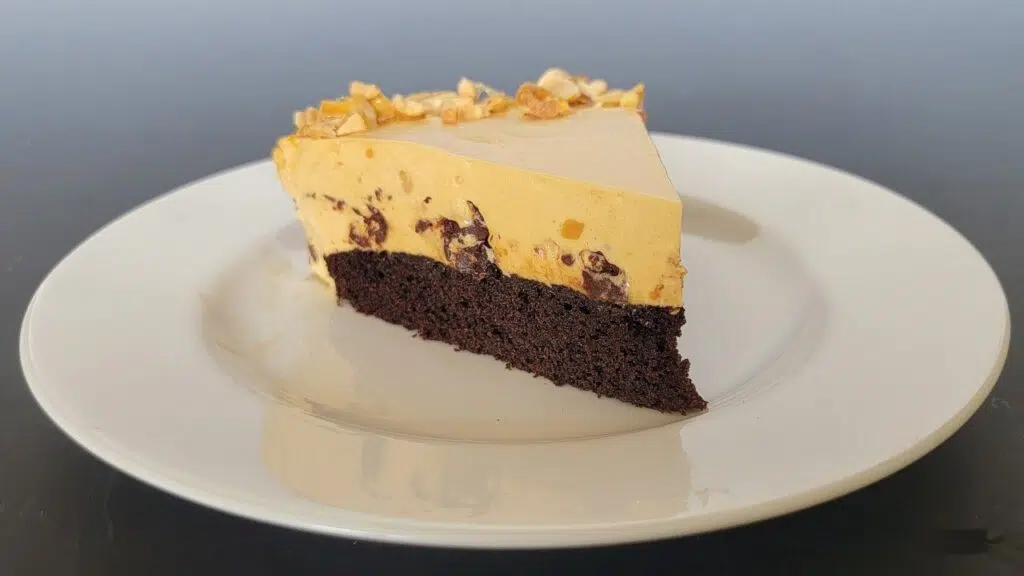 This post may contain affiliate links. Please refer to the terms page for more information.
The caramel mousse made for this dessert is also great for cake fillings, parfaits, filling chocolate shells and so many other sweet uses. The airy texture of the mousse pairs nicely with crunchy additions such as roasted nuts and crunch cookie bits.
FAQs
How do I make a salted caramel cake?
Yes! Add a teaspoon of fine sea salt before allowing the caramel to cool and before adding the whipped cream.
Caramel Mousse Cake
Ingredients
Caramel Mousse
3.5

Ounces

Granulated Sugar

(½ Cup)

1 ½

Ounces

Unsalted Butter

(3 Tablespoons)

½

Cup

Heavy Whipping Cream (measure #1)

(4 fluid ounces)

6

Ounces

White Chocolate

(Use a high quality chocolate)

2

teaspoon

Gelatin Powder

2

tablespoon

Cold Water

(for dissolving gelatin)

3

Large

Egg Yolks

(save the whites for meringues or omelets!)

1 ½

Cups

Heavy Whipping Cream (measure #2)

(12 fluid ounces)
Chocolate Cake
32

Grams

Cocoa Powder

(⅓ Cup) Use a combination of dark cocoa powder and regular cocoa powder for a richer chocolate taste and appearance

180

Grams

all-purpose flour

(1 cup)

200

Grams

Granulated Sugar

(1 cup)

1

tablespoon

Corn Starch

1

teaspoon

Baking Powder

½

teaspoon

Baking Soda

2

Large

Eggs

Room Temperature

⅓

Cup

Vegetable or Canola Oil

⅔

Cup

Brewed Coffee, cooled
Simple Syrup
200

Grams

Granulated Sugar

(1 Cup)

1

Cup

Water
Instructions
Chocolate Cake
Prepare a 9" springform cake pans by lining the bottom with parchment paper or greasing the pans.

Combine flour, sugar, cornstarch, salt, baking powder and baking soda in the bowl of a stand mixer. If mixing by hand or with a hand mixer, combine ingredients in a large mixing bowl.

Add oil and eggs and mix until combined.

Slowly pour brewed coffee into bowl while continuing to mix, scraping the bowl occasionally. The batter should be smooth.

Bake for 28 - 30 minutes, or until a toothpick inserted in the center of the cake comes out clean.

Place cakes on a rack and allow to cool completely.
Make the Caramel Mousse
Sprinkle powdered gelatin over cold water. Set aside to allow to gel.

Lightly whip egg yolks in a bowl, set aside.

Place granulated sugar in a heavy-bottomed sauce pan.

Begin heating the sugar on medium heat and allow to come to a boil. Do not stir sugar.

Continue boiling sugar until it turns an amber color.

Turn heat to low and add butter and heavy cream (measure #1). Use caution as the mixture may sputter. Stir until the butter is melted.

Remove from heat and add white chocolate and gelatin. Stir until melted.

Temper the egg yolks by slowly pouring ¼ of the caramel sauce into the eggs, whisking constantly to prevent eggs from curdling.

Place sauce pan on stovetop over low heat. Whisking constantly, pour the tempered eggs gradually into the saucepan. Whisk vigorously until the mixture thickens slightly and reaches 160° F.

Pour mixture into a large bowl and set aside to allow to cool completely (approximately 30 minutes).

Begin whipping heaving cream (measure #2) to medium peaks.

Gently fold into caramel mixture.
Simple Syrup
Combine granulated sugar and water in a saucepan. Heat over medium heat until sugar is dissolved and the water is just beginning to boil. Set aside to cool.
Assembling the Cake
Poke holes in the chocolate cake with a dinner fork. Evenly brush the cooled simple syrup over the cake.

Pour the caramel mousse over the chocolate cake in the springform pan. Smooth the top with an offset spatula. Tap gently on the counter to release any air bubbles.

Place cake in refrigerator for 2 hours or until mousse is fully set.
Unmold the Cake
Dip a knife or offset spatula into a cup of hot water and run the knife around the inside of the springform pan. Gently release the spring on the pan and move to a serving dish.