German Chocolate Frosting Recipe with Video Instructions
Welcome to my German chocolate frosting recipe. This frosting recipe is chock full of toasted pecans and sweetened coconut. It is the perfect frosting for German Chocolate cakes. This is one of those recipes many of us grew up on and it has withstood the test of time. I think most of us like German Chocolate cake just for the icing!
This post may contain affiliate links. Please refer to the terms page for more information.
This a surprisingly simple recipe to make. It only requires a few minutes at your stovetop and less than an hour to cool. An added bonus is no candy thermometer is required to achieve the caramel base.
Don't just stop at using this frosting for cakes! Its rich caramel flavor works nicely as a topping for brownies, finishing cupcakes or in parfaits.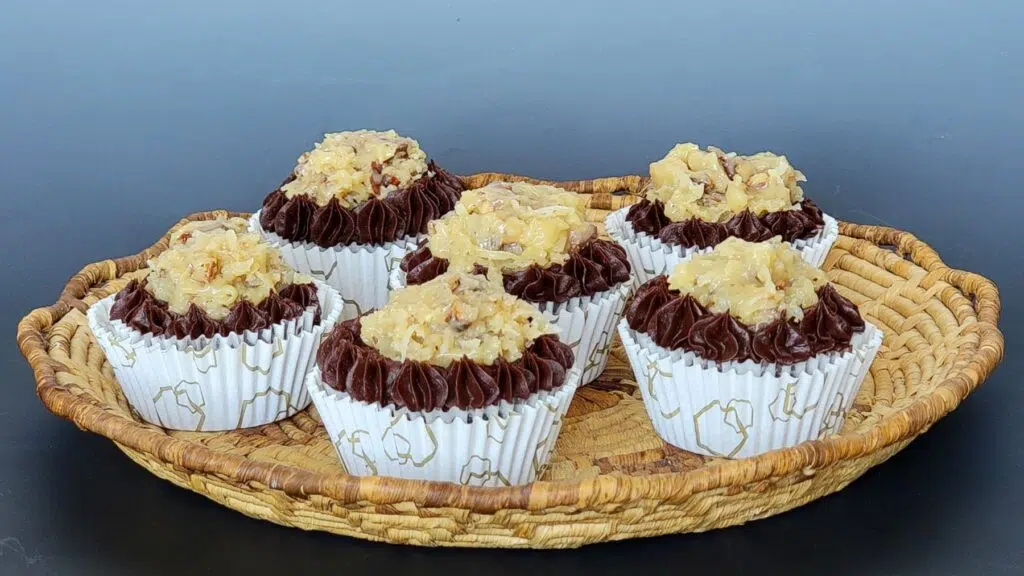 Check out this article from NPR which offers an interesting read on the history of the German Chocolate Cake. Apparently the cake was named after its inventor and not the country.
This German Chocolate Frosting is the perfect filling for my rich chocolate cake.
Tips for Making the German Chocolate Cake Frosting
I recommend toasting the pecans used in this recipe for added crunch and flavor. To toast the pecans, spread the nuts on an ungreased baking sheet and bake for 5 - 7 minutes in a 350° oven. Keep an eye on the pecans and if you start to smell them toasting it is probably time to remove the nuts from the oven. Chop the pecans into coarse chunks once they have cooled.
Start by placing the butter, sweetened condensed milk and brown sugar in a large saucepan. Begin heating on medium heat and stir often. Continue to heat until the butter is fully melted and the brown sugar has dissolved.
Turn down the heat on the stovetop to medium-low and begin pouring the eggs into the saucepan, continuing to stir as the eggs are being added - you are trying to prevent cooking the eggs too quickly. Continue to heat the mixture until it thickens and stir often - this process will take approximately 8 minutes.
Remove the pan from the heat and stir in the pecans and coconut. Allow the frosting to rest at room temperature until it has cooled completely (approximately 45 minutes).
FAQs
How to thicken German chocolate frosting?
This frosting should thicken enough if it is fully cooked. If your icing is still to thin, place in the refrigerator for an hour and it will firm up.
Can you freeze German chocolate cake frosting?
Yes, you may freeze this frosting. Place in an airtight container and freeze for up to three months. To defrost, remove from freezer and place in refrigerator for a few hours.
German Chocolate Cake Frosting
Ingredients
10

Ounces

Unsalted Butter

(2 ½ Sticks)

28

Ounces

Sweetened Condensed Milk (14 ounces)

(2 - 14 Ounce Cans)

7.5

Ounces

Light Brown Sugar

(1 Cup)

6

Large

Egg Yolks

10

Ounces

Toasted Pecans, chopped finely

(Approximately 2 ½ Cups)

10

Ounces

Sweetened Shredded Coconut

(3 Cups)
Instructions
In a large saucepan combine butter, sweetened condensed milk and brown sugar. Heat over medium heat until butter is melted and brown sugar is dissolved. Stir often.

Lower heat to medium-low and add the egg yolks to the saucepan, stirring until the eggs are fully incorporated.

Continue heating the mixture on medium-low heat, stirring frequently, until thickened (approximately 8 minutes).

Remove from heat and transfer mixture to a large, heatproof bowl.

Add coconut and toasted pecans and stir well.

Allow icing to cool completely before using (approximately 45 minutes).
Notes
This recipe will create sufficient icing to fill and frost a 9" round cake.  Make a ½ recipe if using for 18 - 24 cupcakes.  Any leftover frosting may be frozen for up to 3 months or placed in refrigerator for up to a week.