Buttery Nut Brittle with Mixed Nuts
This recipe makes a crisp, sweet, buttery nut brittle jam packed with nuts. It is the perfect treat when you can't decide if you want something sweet or salty as it will satisfy both cravings! This nut brittle is makes a wonderful gift. Just wrap it in a ribbon and place in a decorative tin to give to friends, co-workers, teachers or anyone you want to make smile.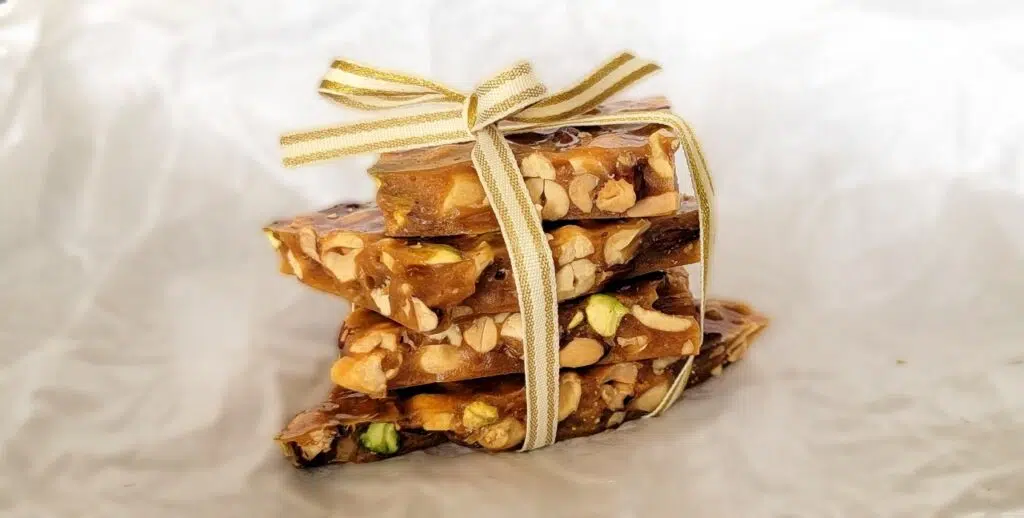 This post may contain affiliate links. Please refer to the terms page for more information.
No special equipment is needed for this nut brittle recipe with the exception of a candy thermometer. Yes, you can make it without the thermometer but unless you understand what caramel looks and smells like at the hard-crack stage, you may not achieve the crispiness that makes this so special.
Boiling sugar brings me back to my days in pastry school. I have this image in my head of 14 students leaning over induction units, pots filled with boiling sugar, staring at candy thermometers. It seems like the second you glanced away your thermometer would go haywire and, voila, ruined sugar. Today I can usually tell what stage I'm at in the sugar cooking process without a thermometer. But old habits die hard and you can still find me staring at my thermometer while working with sugar!
Tips for Making the Perfect Nut Brittle
Ingredient tips for this candy nut recipe:
What type of nuts to use in this recipe? Whatever you want! My family and friends like this treat best when I use mixed nuts and throw in extra pistachios for a bit of color. Prefer all peanuts? Not a problem, just use 12 ounces of peanuts.
How to make the nut brittle on a stovetop:
Before starting the caramel prepare your work area. You may use a Silpat or parchment-lined cookie sheet or lightly butter a cookie sheet. You want this near your work area as you need work quickly once the nuts are added to the caramel.
The caramel is cooked to the hard-crack stage, which is 300°. Do not allow the candy thermometer temperature reader to touch the bottom of your pan as this will cause an inaccurate measurement. Place the tip about halfway into the syrup.
Once the syrup reaches 300°, which will take 8 - 12 minutes, stir in the baking soda. Please proceed with caution. The syrup is quite hot and can cause sever burns if you spill it on yourself.
Next, working quickly, stir in the nuts to coat with the caramel.
Immediately spread on your prepared cookie sheet using a spatula. Allow to cool completely (about 40 minutes) and break into the size pieces you desire.
Storing your candied mixed nuts:
This treat is filled with sugar which is quite hydroscopic, meaning it will absorb the moisture from the air around it. If this occurs you will have a sticky brittle. Place the brittle pieces in an airtight container and store in a cool, dark area. It will last for approximately a month if stored properly.
The Perfect Nut Brittle
A crisp, yet buttery, brittle that is loaded with a multitude of nuts!
Equipment
1 Cookie Sheet Pan

1 Parchment Paper or SilPat

(Silpat is preferred)
Ingredients
14

Ounces

Granulated Sugar

(2 cups)

½

Cup

Water

4

Ounces

Unsalted Butter

(1 stick)

⅓

Cup

Corn Syrup

(Dark or Light)

½

teaspoon

Baking Soda

12

Ounces

Roasted Nuts of your choice
Instructions
Combine granulated sugar, water, butter and corn syrup in a heavy-bottomed sauce pan.

Begin heating over medium-high heat stirring occasionally until the mixture begins to boil.

Wipe the inside of the pan with a clean brush dipped in cold water to remove any sugar crystals.

Continue to cook until the caramel reaches 300°. This will take 8 - 12 minutes.

Remove from heat, add the baking soda and stir briefly. Use caution as the caramel may sputter.

Add the nuts and stir quickly to ensure all nuts are coated with the caramel.

Working quickly, pour the mixture onto a Silpat or other heat-resistant surface. Smooth the mixture with a spatula.

Cool the nut brittle completely (about 40 minutes) and break pieces.