Every baker should have a classic vanilla cake recipe in their recipe box. This vanilla cake is pillow-soft, wonderfully moist and delicious. It is also quite versatile. I refer to this recipe as "The Perfect Vanilla Cake" as it produces lovely cupcakes, may be used as the base recipe for other flavors such as lemon or lime, and is sturdy enough to hold up to carving for sculpted cakes.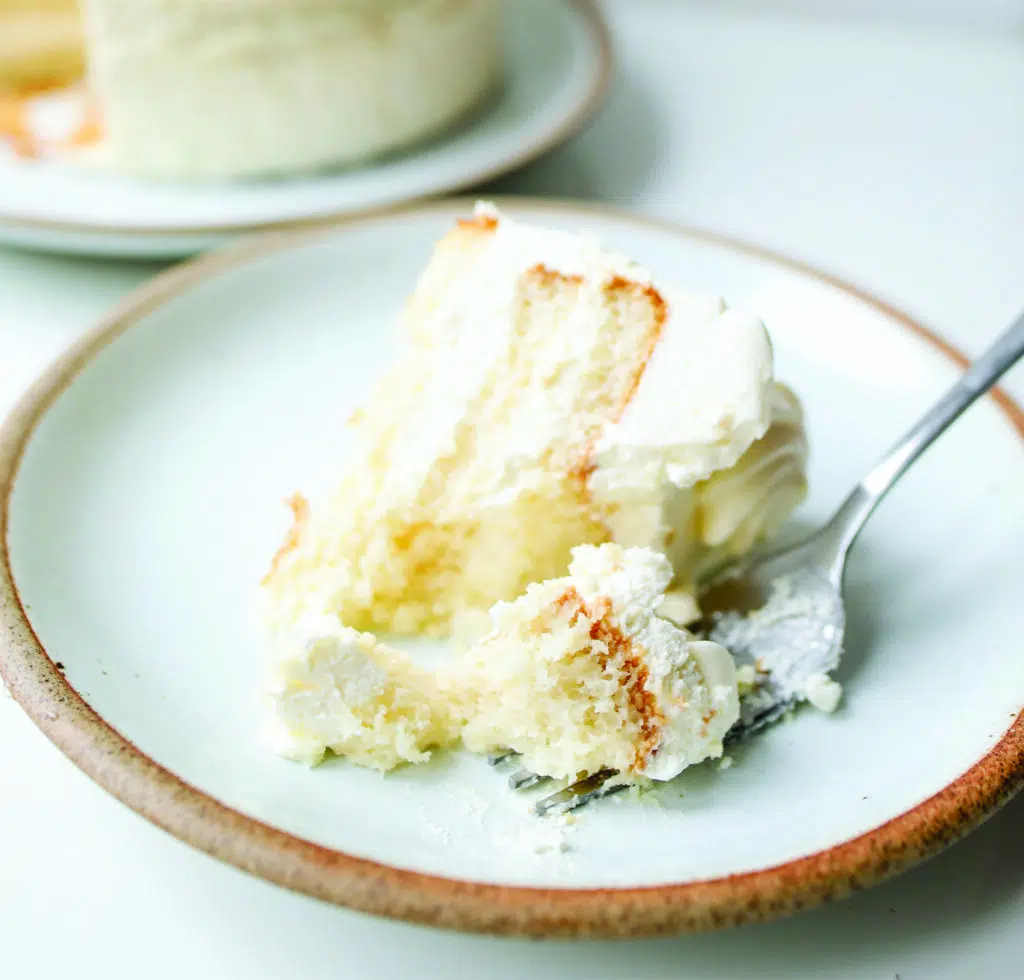 This post may contain affiliate links. Please refer to the terms page for more information.
This recipe is made from scratch and is ideal for any occasion. It produces and even crumb with no large tunnels or irregular holes. It pairs beautifully with any filling or frosting so feel free to be as creative as you wish or consider one of the following: chocolate mousse, lightened pastry cream with fresh berries, hazelnut filling, lemon curd or just a sweetened whipped cream.
To easily convert this recipe to a citrus flavored cake replace the vanilla with freshly squeezed lemon, lime or orange juice. Also, zest one or two of the fruit peels and whisk together with the flour mixture.
Tips for Making this Cake:
Measure all ingredients and set out all equipment before beginning to make this cake. This extra step ensures your ingredients are measured properly, you don't forget anything and you are not searching for a tool while preparing the batter!
Type of vanilla to use: Use a good quality vanilla bean paste or pure vanilla extract. An imitation vanilla flavoring won't cut it for this cake!
Bring the eggs and milk to room temperature. Room temperature eggs are less viscous than cold eggs and will incorporate into the batter more evenly. Room temperature milk will speed the process of emulsification which traps air bubbles resulting in a better rise in the cake.
Baking Temperatures: This vanilla cake is initially placed in the oven at a low temperature (275°) for 15 minutes then increase to 350° to finish baking. Starting at a lower temperature will minimize the cake dome and will result in a perfectly risen cake. If making cupcakes, bake at 275° for 10 minutes then increase the temperature to 350° and bake for an additional 12 - 14 minutes.
FAQs
Can I use this recipe for a sheet cake?
Yes, this recipe will make enough to fill a 9" x 13" cake pan. The recipe may be easily doubled for a larger sheet pan size).
Can this be made as a gluten-free cake?
Yes, simply replace the all-purpose flour with a one-for-one gluten-free flour substitute. I prefer the Bob's Red Mill gluten-free flour, but there are many good brands on the market.
Vanilla Cake
This vanilla cake is pillow-soft, wonderfully moist and delicious. 
Ingredients
390

Grams

All Purpose Flour (or 3 cups)

2 ½

teaspoon

Baking Powder

½

teaspoon

Salt

400

Grams

Granulated Sugar (or 2 cups)

4

Large

Eggs

Room Temperature

⅔

Cup

Vegetable or Canola Oil

⅔

Cup

Whole Milk

Room Temperature

1 ½

teaspoon

Vanilla Bean Paste or Extract
Instructions
Preheat oven to 275 degrees

Prepare two 8-inch cake pans by lining with parchment paper

Combine flour, salt and baking powder in a bowl. Whisk well.

Add sugar and eggs to a large bowl or the bowl of a stand mixer.  Mix on medium speed for approximately 2 minutes.

Add the vanilla bean paste or extract and mix briefly

Add one-third of the flour mixture and mix on low speed until incorporated. Add one-half of the milk and vegetable oil and mix until incorporated. Add another third of the flour mixture and mix till smooth. Add the remaining oil and milk and mix till smooth. Finally, add the remaining flour mixture and mix until smooth.

Divide the batter equally between two 8" pans lined with parchment paper.  

Bake for 15 minutes at 275 degrees.  Increase temperature to 350 degrees and bake for an additional 20 – 30 minutes, or until a toothpick inserted in the center of the cake comes out clean.