Blondies with Caramel Filling Recipe
One bowl, a whisk, a spatula and a few ingredients are all you need to create this Caramel Blondies recipe! This treat takes your standard blondies recipe and pumps it up with gooey caramel pieces.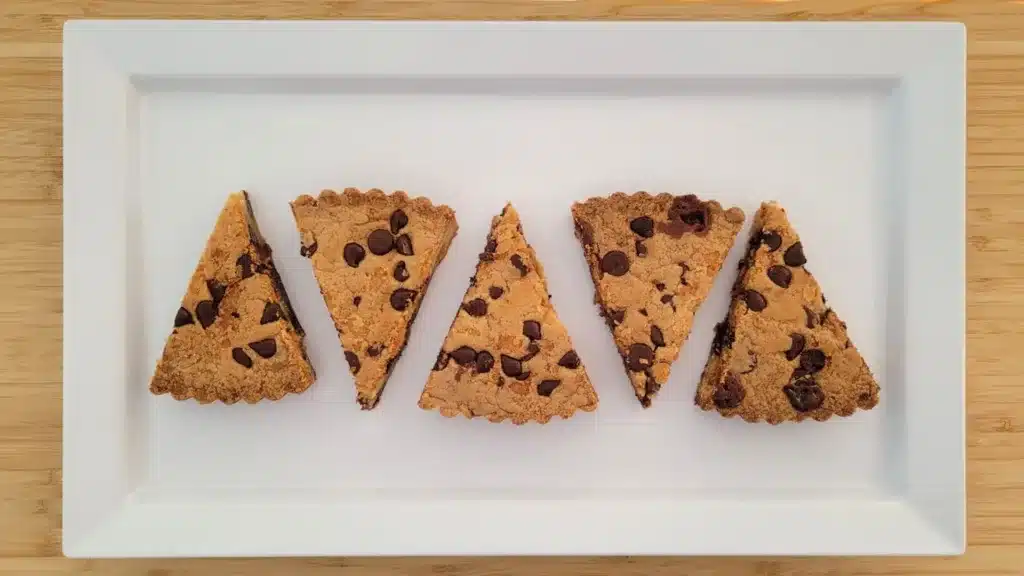 This post may contain affiliate links. Please refer to the terms page for more information.
The caramel in these bars adds a delightful sweetness to the blondies, resulting in an indulgent treat. These are the perfect cookie bars to take to picnics, barbeques and other casual gatherings.
Tips for making caramel blondie bars:
Caramel Blondies Ingredients:
All Purpose flour and salt
Granulated sugar and brown sugar
Unsalted butter: melted and slightly cooled. Eliminate the salt in the recipe if using salted butter.
Caramels: Use a soft, chewy caramel - not caramel sauce. You may use purchased caramels or make your own. Check out my homemade caramel recipe should you decide to make your own.
Bittersweet Chocolate Chips
An egg and an egg yolk
Make the Caramel Blondie Recipe:
I make these caramel blondies in a 10" round tart pan with a removeable bottom. You do not need to apply butter or grease to the pan if using a non-stick with a removeable bottom. If you prefer, you may use a 9" square pan - be sure to butter the pan before adding the cookie dough.
Simply follow the directions in the recipe card below to create the caramel blondies. In brief, the steps are as follows:
Make the cookie bar dough.
Add ⅔ of the dough into your pan. Lightly press the dough with your hands into the bottom of the pan.
Evenly distribute caramel pieces over the cookie dough.
Add the remaining cookie dough and spread over the caramels.
Sprinkle with chocolate chips.
Bake, cool, and eat!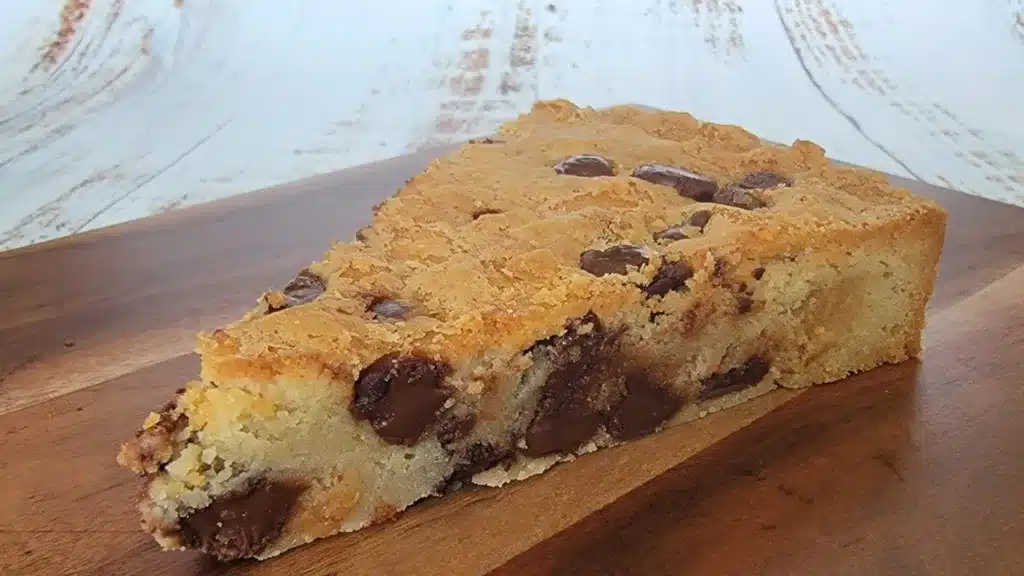 FAQs
What other ingredients can I add to the caramel blondies:
A few ideas for flavor variations: Add a cup of toasted pecans or walnuts to the cookie dough for some added crunch. Use sea-salt caramels to kick up the flavor. Replace the chocolate chips with butterscotch chips.
How do I store these cookie bars?
Place the blondies in an airtight container and store at room temperature for up to 4 days. The bars may also be frozen for up to 3 months.
I hope you enjoy this Caramel Blondies recipe as much as my friends and family do. Would love to hear from you if you make this recipe!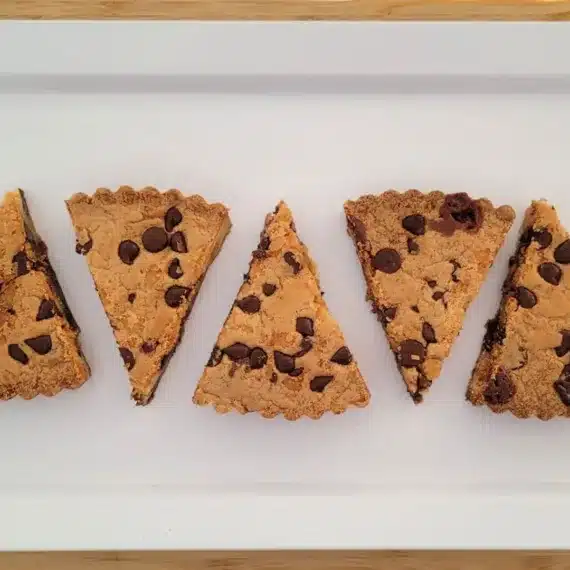 Caramel Blondie Bars
One bowl, a whisk, a spatula and a few ingredients are all you need to create this Caramel Blondies recipe!
Ingredients
150 Grams Granulated Sugar (¾ cup)
105 Grams Brown Sugar (½ cup)
1 Large Egg
1 Large Egg Yolk
170 Grams Unsalted Butter, melted and cooled slightly (¾ cup / 6 ounces)
200 Grams All-purpose flour (1 ½ cups)
½ Teaspoon Salt
170 Grams Chocolate Chips, bittersweet (approximately 1 cup)
20 Small Caramel Squares (use soft caramel - not runny)
Instructions
Preheat oven to 350℉

Place granulated sugar, brown sugar and melted butter in a large bowl. Whisk until smooth.

Add the egg and egg yolk to the bowl and whisk until smooth.

Add the flour and salt to the bowl and mix with a rubber spatula until moistened.

Stir in ½ cup of the chocolate chips.

Lightly press ⅔ of the cookie dough into a 10" round tart pan with a removeable bottom. Alternatively, lightly butter a 9" square cake pan and press in ⅔ of the dough.

Sprinkle caramel pieces over the top of the cookie dough.

Add the remaining cookie dough to the pan over the caramel. Smooth with an offset spatula. Sprinkle ½ cup of chocolate chips over the top layer of cookie dough.

Bake for 30 minutes (top will be a golden brown color and a toothpick inserted in the center will come out clean). Place pan on a baking rack and allow to cool for at least one hour before cutting.
Video