Lime Tarts with a Coconut Graham Cracker Crust
This Lime Tarts recipe produces a delightful fusion of tropical flavors: a tangy lime filling and sweetened coconut graham cracker crust. In addition to the amazing taste, these tarts offer a pleasing texture combination. The crispy coconut crust provides a satisfying crunch, while the creamy lime filling adds a velvety mouthfeel.
This post may contain affiliate links. Please refer to the terms page for more information.
Tips for making the tarts:
Follow the recipe card below for instructions or check out my YouTube video if you prefer a visual. Only two simple steps are required to create these lime tarts:
Make the coconut graham cracker crust. The crust is partially baked and fully cooled before adding the filling.
Make the lime filling and bake the tartlets. Store the lime tarts in the fridge after they are completely cool.
Lime Tartlet Ingredients
Coconut Graham Cracker Crust Ingredients:
This recipe will make six 3" individual lime tarts. I recommend using tart pans with removeable bottoms for easy unmolding. For the tart crust the following ingredients are needed:
Graham cracker crumbs: you may purchase graham cracker crumbs from your grocer or make your own crumbs in a food processor.
Toasted shredded coconut: use a sweetened shredded coconut. Toast the coconut in a saucepan over medium heat for a few minutes, stirring often. Keep an eye on the coconut as it can burn quickly.
Granulated sugar: adds a bit of sweetness to the crust
Unsalted butter: melted and cooled slightly
Lime Filling Ingredients:
The ingredient list for the lime tart filling is relatively short and simple. You will need the following:
Sweetened condensed milk: usually found in the baking aisle in grocery stores. A 14-ounce can is needed for this recipe.
Egg yolks: save those whites for an omelet or meringues!
Lime juice: you may used freshly squeezed or bottled lime juice.
Lime Tartlets FAQs
Do I need to use fresh lime juice for the tart filling?
I use fresh limes for this recipe. A high-quality bottled lime juice will also work.
How do I store the lime tarts?
Keep the finished tartlets in an airtight container and store in the refrigerator for up to 3 days. These treats may be wrapped in plastic wrap or foil and frozen for up to 2 months.
How can I decorate the top of the tarts?
Lots of options to dress up the top of these babies! Sprinkle with toasted coconut, garnish with lime peel curls, add a dollop of sweetened whipped cream, etc...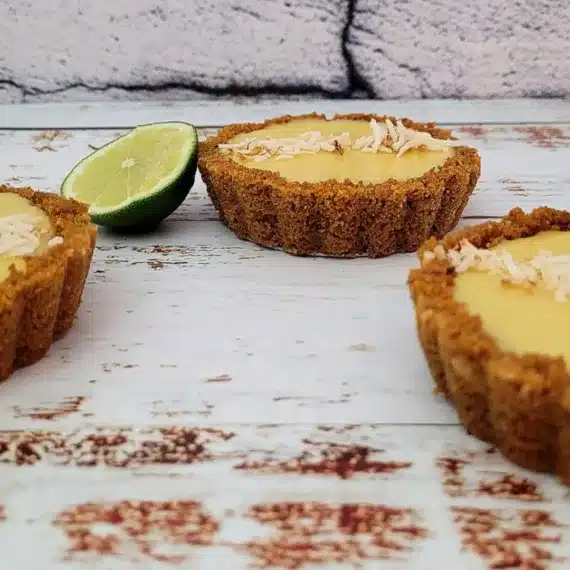 Lime Tartlets in a Coconut Graham Cracker Crust
Lime Tartlets: a delightful fusion of tropical flavors: a tangy lime lime filling and sweetened coconut graham cracker crust.
Ingredients
Graham Cracker Crust
240 Grams Crushed Graham Crackers (2 Cups)
66 Grams Granulated Sugar (⅓ Cup)
90 Grams Unsalted Butter, melted (6 Tablespoons / 3 ounces)
Shredded Coconut (toasted) (½ cup)
Lime Filling
1 14 Ounce Can Sweetened Condensed Milk
4 Large Egg Yolks
5 Fluid Ounces Lime Juice Fresh squeezed or bottled
Instructions
Graham Cracker Crust
Preheat oven to 350°

Melt butter in microwave or over stovetop.

Place graham cracker crumbs, shredded coconut and granulated sugar in a medium-sized bowl. Stir to combine.

Add melted butter to bowl and toss the mixture until the butter is evenly distributed.

Gently press the graham cracker mixture on the bottom and sides of the tart pans

Bake for 6 minutes. Cool completely before making lime filling.
Lime Filling
Preheat oven to 300°

Whisk egg yolks and sweetened condensed milk together.

Pour lime juice into bowl whisking slowly so as not to create air bubbles.

Pour filling into cooled tart crusts.

Bake for 8 minutes or until the tarts are set. The middle of the tarts will still be jiggling, do not overbake.

Cool completely then place in refrigerator for storage.
Video
Notes
If making your own graham cracker crumbs in a food processor, you will need approximately 16 graham crackers to make 2 cups of crumbs.