Oatmeal Date Bars Recipe with an Instructional Video
Cookie bars are always great for summer gatherings, pot luck dinners and casual parties. They are easily portable and your guests can just eat them with their hands. This Oatmeal Date Bars recipe is two layers of a cookie crust sandwiched with a gooey layer of sweet dates.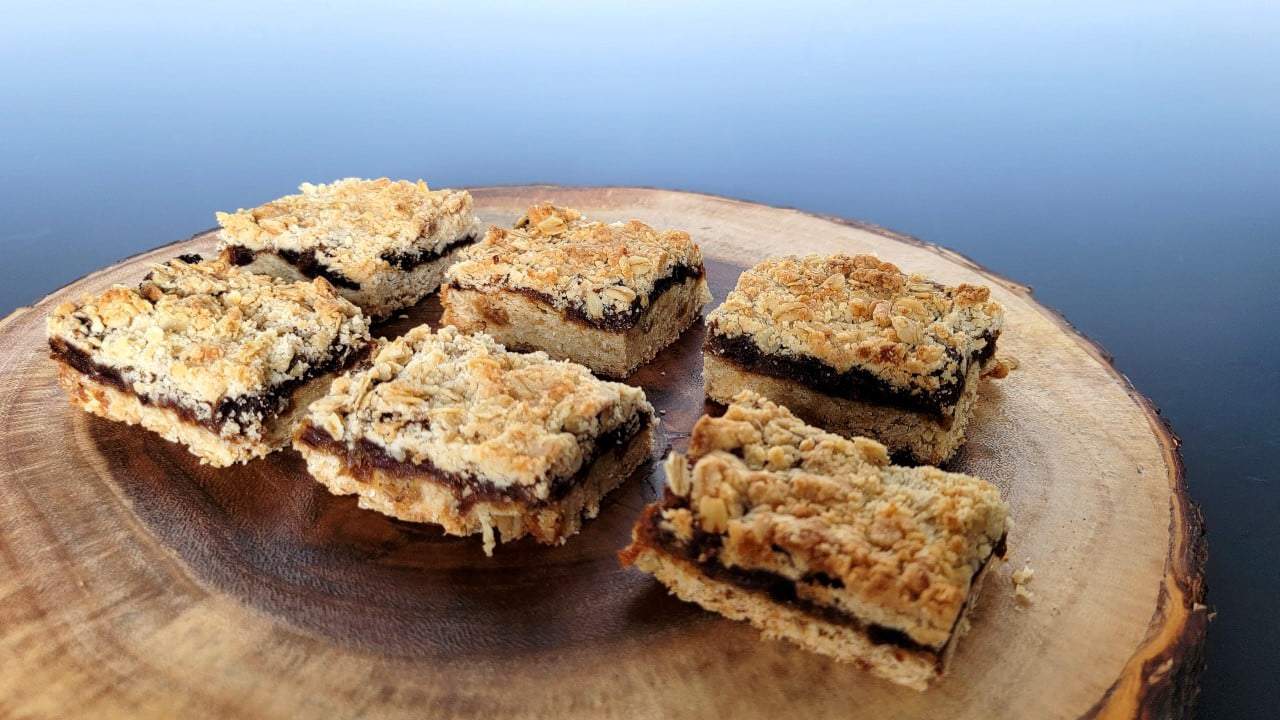 This post may contain affiliate links. Please refer to the terms page for more information.
Dates are the fruit of the date palm tree. These little wonders have increased in popularity as a dessert ingredient. They have a chewy texture and a naturally sweet flavor – making it easier to use less processed sugar in recipes. As an added bonus they contain antioxidants, fiber, vitamins and minerals.
Want a vegan oatmeal date bar? No problem. Replace the butter in the recipe with margarine! Want a nut-free option? Again, no problem, use the almond flour instead of flour.
FAQs
Can I make these gluten-free date bars? or dairy-free? or vegan?
Absolutely! I have family members and friends who are gluten and dairy intolerant. Simply replace ingredients with the following:
Gluten-Free: There are many good gluten-free flour substitutes available. I typically use Bob's Red Mill, but there are many others.
Vegan or Dairy-Free: These coconut date bars don't use eggs, so simply replace the butter in the recipe with a vegan butter substitute. There are many good ones available – my favorite is Miyoko's.
How do I store the date bars?
These treats do not need refrigeration. Place the bars in an airtight container and leave at room temperature. The bars may also be frozen for up to three months.
Oatmeal Date Bars
Ingredients
Filling
2 Cups Dates, pitted and chopped
66 Grams Granulated Sugar (⅓ Cup)
1 Cup Water (8 fluid ounces)
1 tsp Pure Vanilla Extract
50 Grams Almond Flour (use all purpose flour if nut-free is desired) (½ Cup)
Dough
170 Grams Unsalted Butter, room temperature (¾ Cup or 1 ½ Sticks)
213 Grams Brown Sugar (1 Cup, packed)
150 Grams All-Purpose flour (1 ¼ Cup)
1 tsp Baking Soda
½ tsp Salt
100 Grams Oatmeal, Old Fashioned (1 ¼ Cup)
Instructions
Prepare Pan
Spray pan with nonstick baking spray and place strips of parchment paper in bottom of pan so the parchment extends over the four pan sides.
Prepare Date Filling
Chop dates into small chunks.

Place dates, water and granulated sugar in a medium-size saucepan.

Bring to a boil, stir often. Reduce to a simmer and cook until mixture is thickened, stirring occasionally (approximately 4 – 6 minutes)

Remove from heat and add the almond flour and vanilla. Stir until absorbed.

Set aside to cool completely.
Make Cookie Base
Preheat oven to 350° F

Sift or whisk together flour, baking soda and salt.

Place softened butter and brown sugar in the bowl of a stand mixer. Using the paddle attachment begin mixing on medium speed. Continue to mix until the butter and sugar mixture is light and fluffy (approximately 2 – 3 minutes). Note: a hand mixer may also be used

Add the flour, baking soda and salt mixture. Mix for 20 – 30 seconds.

Remove the bowl from the mixer and mix in the oatmeal. Note: the dough will be crumbly.

Pour half of the dough into the bottom of the prepared pan. Using your hands, lightly press the dough down so it evenly covers the bottom of the pan.

Pour the date mixture over the dough in the pan and spread evenly.

Sprinkle the second half of the dough over the dates so it is evenly distributed.
Bake
Bake for 25 – 30 minutes. Cool completely before removing from pan.

Unmold by pulling up on sides of parchment paper and transfer to a cutting board. Remove parchment from bottom of the bar. Cut into desired shapes.
Video