Apple Caramel Crumble Pie Recipe – Video Instructions Included
Just love this apple caramel crumble pie with oat topping recipe! Two flavors that are are synonymous with deliciousness are caramel and apples. Add in a crunchy oat topping and a sweet pie crust and – voila! – you have the perfect caramel apple crumble pie. The combination of apples and a crumb topping is often referred to as a Dutch apple pie.
This post may contain affiliate links. Please refer to the terms page for more information.
Many of the ingredients in the filling are repeated in the crumb topping, which keeps all the flavors in balance with this dessert – it also simplifies your shopping list!
Tips for Making the Apple Pie and Oat Crumble Topping:
A sweet pie crust works pairs beautifully with the other elements of this pie. Check out my sweet pie dough which produces a soft cookie-like crust and is strong enough to hold up to the heavy fillings in this apple pie.
I recommend Granny Smith, Fiji or Honey Crisp apples or a combination of these types.
It is important to macerate the apples in sugar before filling your pie shell. This process simply draws out some of the juices from the apples helping to prevent a soggy bottom crust. Here is how:

Peel, core and chop apples into 1/4 inch slices.
Place the apple slices in a bowl and drizzle one tablespoon of lemon juice into the bowl, toss apples.
Sprinkle 1/2 cup of granulated sugar over the apples and toss to coat all the slices in sugar.
Allow the apples to rest at room temperature for one hour. Alternatively prepare the apples one day prior to making the pie, follow the steps above, cover the bowl and place in refrigerator overnight.
Drain extra juices and begin preparing the pie filling.

Use a caramel sauce that pours easily. You may make your own or purchase in the grocery store or online.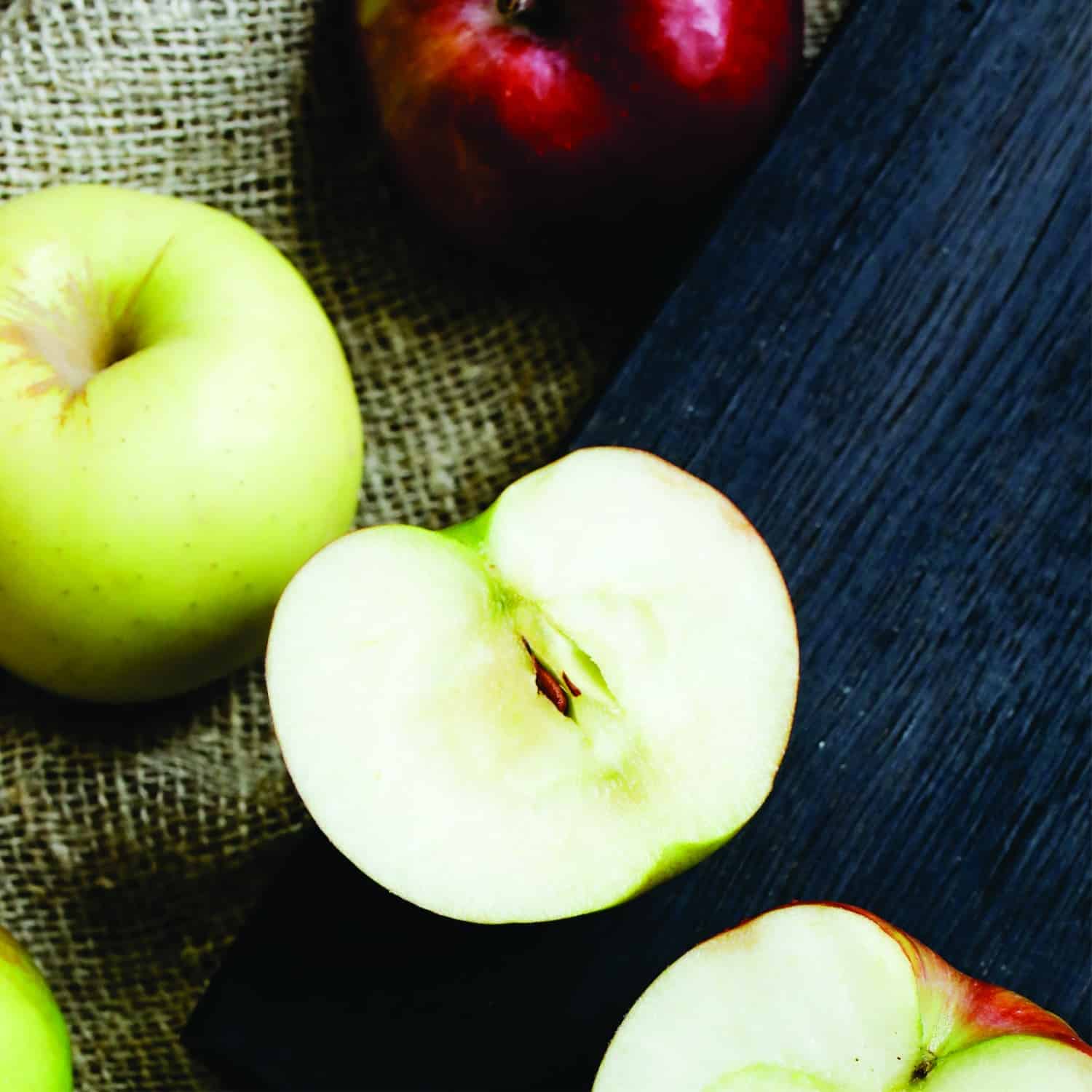 Assemble the pie:
The first step with all of my fruit pies to to apply an egg wash to the pastry. Lightly whip an egg and brush over the bottom, sides and outer crust using a pastry brush. This will help prevent a 'gummy' bottom crust and lessen the possibility of the outer crust burning.
Layer the ingredients into the pie shell as follows:

Place half of the apples into the pie shell.
Drizzle half of the caramel sauce over the apples.
Place the second half of the apples over the caramel sauce.
Drizzle the remaining caramel sauce over the apples.
Pile the crumble over the pie mounding it up in the middle. Lightly press down on the crumb topping.
Baking and Serving the Pie:

If you have read my other pie recipes you already know I recommend chilling assembled pies for several minutes before placing in the oven. This helps prevent the crust from shrinking and burning.
Bake on a pie drip shield or a cookie sheet – who wants to scrub pie drippings out of their oven! I recommend a pie drip shield with a hole in the middle as this allows heat to reach the bottom crust more thoroughly.
Check the crust after 25 – 30 minutes of baking. Place a pie shield over the crust if it is turning too dark – alternatively wrap the crust loosely in foil.
Cool the pie completely before serving. Consider scoring the crumb topping while the pie is still warm. This will give you cleaner slices as the topping is quite crunchy which can make it difficult to cut through.
This pie is wonderful ala mode or drizzled with more caramel sauce – one can never have too much caramel!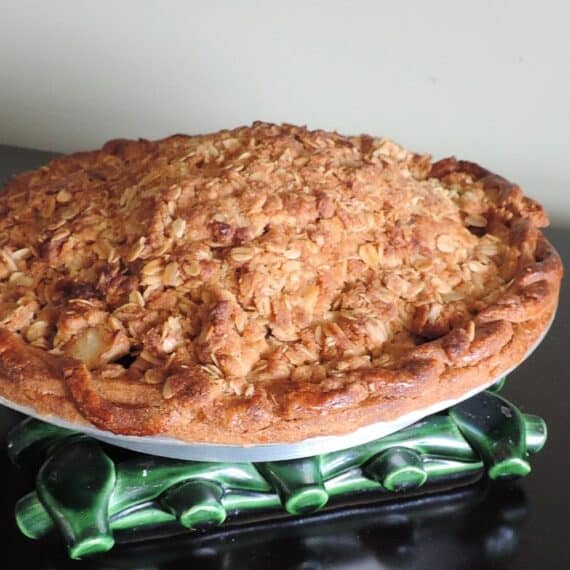 Caramel Apple Crumble Pie
Packed with tart apples, creamy caramel sauce and a crunchy crumble topping make this a pie perfect for a family gathering.
Equipment
1 Pie Drip Catcher

1 Pie Crust Shield
Ingredients
Crumble Topping
¾ Cup Brown Sugar (5 ounces)
¾ Cup Oatmeal (3 ounces)
¾ Cup All-Purpose flour (3 ounces)
4 Ounces Butter, room temperature 1 Stick
1 tsp Ground Cinnamon
½ tsp Nutmeg
Pie Filling
2 Lbs. Apples (Granny Smith and/or Honey Crisp)
100 Grams Granulated Sugar for Macerating Apples (½ Cup)
1 Tbsp Lemon Juice
2 Tbsp Corn Starch
½ tsp Salt
1 tsp Ground Cinnamon
½ tsp Nutmeg
⅓ Cup Caramel Sauce
1 Large Egg, lightly beaten For brushing pie dough
Instructions
Macerate Apples
Peel, core and chop apples into ¼ inch slices.

Place apples in a bowl, add one tablespoon lemon juice (to prevent browning) and toss apples.

Add 100 grams (½ cup) granulated sugar and toss until apples are coated.

Set aside for one hour.
Crumble
Combine brown sugar, flour, oatmeal, butter, cinnamon and nutmeg in a bowl. Using your hands or a stand mixer fitted with the paddle attachment combine ingredients until it resembles coarse pieces.
Pie
Drain macerated apples and return to original bowl. Sprinkle cornstarch, salt, cinnamon and nutmeg over apples and toss to coat apples evenly.

Using a pastry brush apply egg wash to the pie shell (bottom, top and sides of crust)

Place ½ of the apples into the pie shell.

Drizzle ½ of the caramel over the apples. Place the second ½ of the apples in the pie shell and drizzle remaining caramel over the apples.

Spread the crumble over the apples.

Place pie in refrigerator and heat oven to 350°.

Bake at 350 degrees 35 – 40 minutes. Check crust after 25 – 30 minutes of baking. If crust is becoming too brown, place a pie shield over crust (or wrap loosely in foil).

Cool completely before serving.

Enjoy!
Video