Easy 'One-Bowl' Carrot Cake Recipe (no mixer required)
The much-loved carrot cake with its signature cream cheese frosting comes from humble beginnings. It is generally thought the cake was originally created by English home bakers during World War II. At this time each household was rationed 8 ounces of sugar per week. In 1943 The English Ministry of Food Published a recipe for carrot cake and home bakers embraced the recipe because the sweetness of the carrots replaced some of the sugar used in cake recipes.
This post may contain affiliate links. Please refer to the terms page for more information.
Regardless of the beginnings of the carrot cake, it was always the dessert I requested for my birthday as a child, and to this day it remains one of my favorites. This recipe is from my mother with one little tweak (please don't tell my mother I changed her recipe!). The change is the addition of unsweetened applesauce which adds a bit more moistness and structure to the cake without changing the flavor.
Tips for Making the Old-Fashioned Carrot Cake Recipe:
Classic Carrot Cake Ingredient Tips (includes unsweetened applesauce)
Use the freshest carrots you can find and shred finely in a food processor. Alternatively, purchase pre-shredded carrots from your grocer.
Use unsweetened applesauce as the sweetened version will change the taste of the cake.
Bring the eggs to room temperature. Room temperature eggs will blend with the vegetable oil better than cold eggs.
Vegetable or canola oil may be used. Please don't use olive oil.
Mixing and Baking this Spiced Carrot Cake
Making the cake batter for this recipe couldn't be easier! A stand-mixer fitted with the paddle attachment is fine to use, but just a bowl and spatula work just as well for the mixing process. I refer to this as my 'one bowl carrot cake.'
Start baking this cake at a low temperature (275°) for 15 minutes then increase the temperature to 350°. This will produce a more even bake and still achieve the proper rise in the cake without creating a large top dome.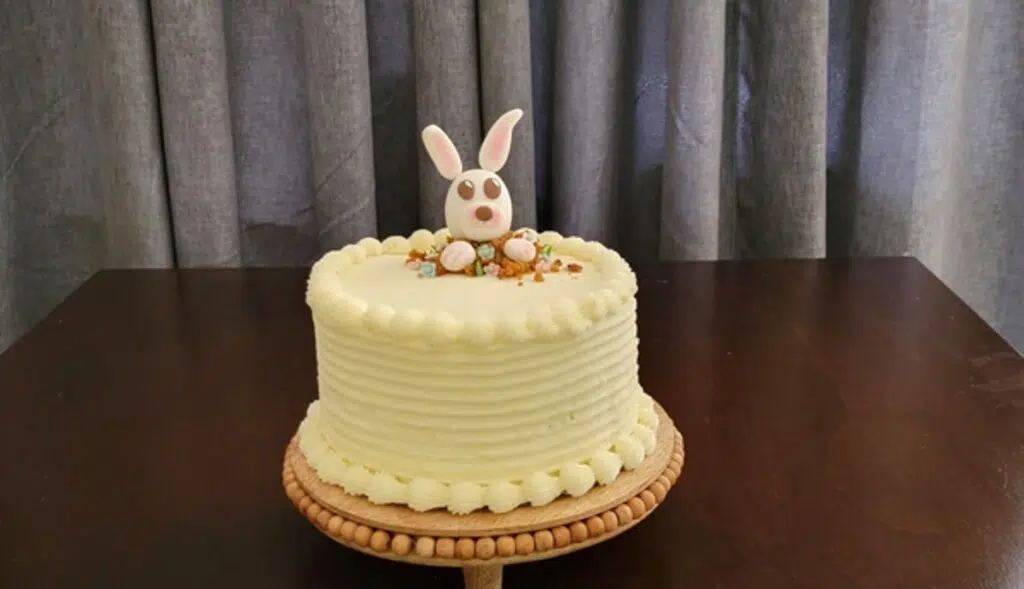 Carrot Cake Variations: most popular include pineapple and coconut
Make this recipe your own by adding your favorite toasted nuts, coconut, raisins, etc... Note: if adding pineapple be sure to drain it well before adding to the cake batter else you will have a soggy cake!
Want cupcakes? No problem, this recipe will make 18 regular sized cupcakes. Top the cupcakes with a sweetened cinnamon whipped cream topping for a little extra spice.
Carrot Cake
This carrot cake recipe is loaded with freshly grated carrots, a bit of applesauce to add to the moisture content, and the perfect blend of spices.
Ingredients
2

Cups

Shredded Carrots

½

Cup

Unsweeted Applesauce

4

Large

Eggs

Room temperature

¾

Cup

Vegetable or Canola Oil

180

Grams

All Purpose Flour

(1 ½ Cups)

250

Grams

Granulated Sugar

(1 ¼ Cups)

2

teaspoon

Cinnamon

1

teaspoon

Baking Powder

1

teaspoon

Baking Soda

1

teaspoon

Salt
Instructions
Prepare two 8" round pans by lining the bottom with parchment paper or greasing the pans. Alternatively, this recipe will make 18 cupcakes or one 10" round pan.

Combine flour, sugar, cinnamon, baking powder, baking soda and salt in a bowl.

In another bowl, place shredded carrots and applesauce. Stir to combine.

Add eggs and oil to the carrot/applesauce mixture and stir well to combine.

Place ½ of dry ingredients into mixing bowl and stir to combine.

Place remaining ½ of dry ingredients into mixing bowl and stir to combine.

Optional: add 1 cup of raisins, nuts, coconut, drained pineapple or any other desired item.

Divide the batter between the two prepared pans.

Bake for 15 minutes at 275°.

Increase oven temperature to 350° and bake an additional 30 minutes, or until cake is fully risen and a toothpick inserted in the center of the cake comes out clean.

Place pans on a rack and cool completely before unmolding.
Notes
Note: this cake may be frozen for up to three months.  Wrap well in plastic wrap.