Chocolate Cupcakes with Caramel Filling and Fudge Icing
These Chocolate Cupcakes with caramel filling are too delicious to pass up – so grab a napkin and bite into one! The cupcakes consist of a dark chocolate cake, a gooey caramel center and a rich fudge topping.
This post may contain affiliate links. Please refer to the terms page for more information.
Filled cupcakes offer an unexpected surprise when bitten into. Additionally, filling cupcakes adds to the texture of what could otherwise be a boring cupcake. The soft caramel filling and fudgy icing make this treat extra special.
Tips for making the caramel filled cupcakes:
Ingredients:
This recipe requires a few more ingredients than your 'standard' cupcake. You will need:
For the cupcake and filling:
All-purpose flour, granulated cornstarch, baking soda, baking powder and salt
Eggs
Canola or vegetable oil
Brewed coffee (cooled). You may use water in place of the coffee if preferred.
Caramel filling: you may make your own or purchase a brand you like.
For the fudge icing:
Bittersweet chocolate
Unsalted butter
Light corn syrup
Heavy cream
The fudge icing will require an hour or two to set-up before you can pipe with it. I usually make my icing before baking the cupcake. It will then be ready when it is time to assemble the cupcakes.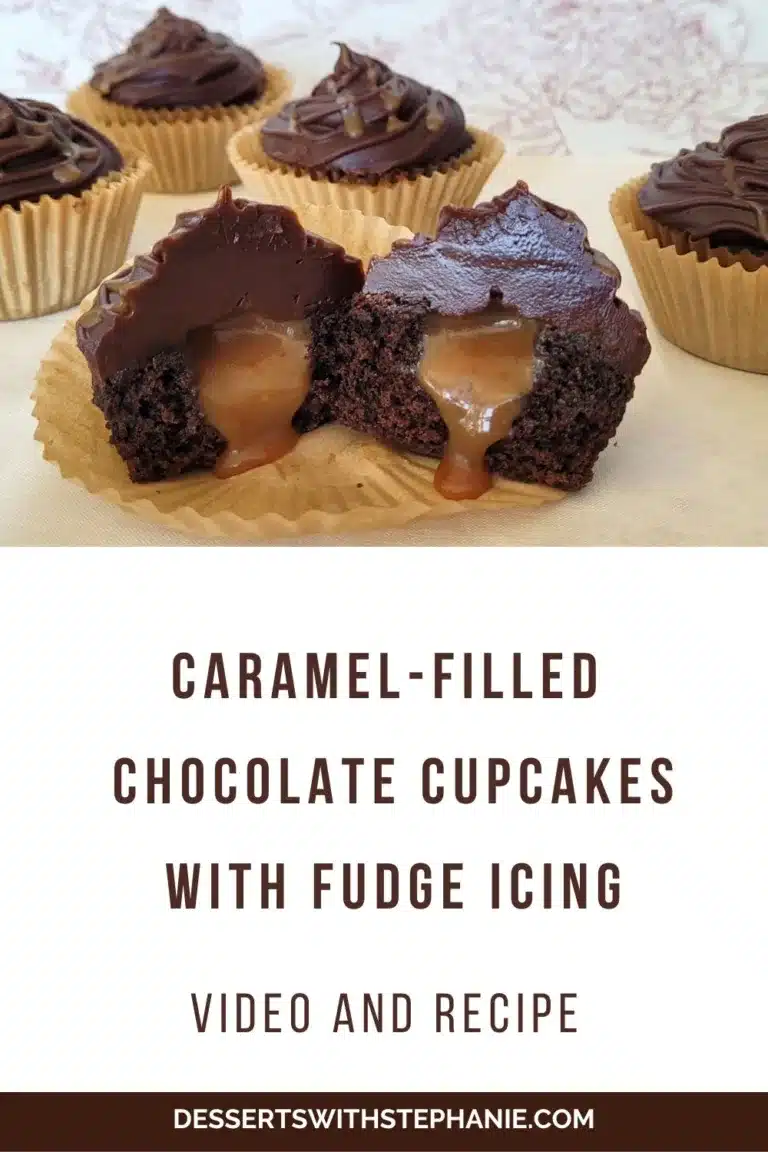 What is the best way to fill a cupcake?
There are many ways to fill a cupcake but my favorite is to use an apple corer. Simply insert the corer three-quarters of the way into the baked cupcake, twist and pull out the center. You will have a decent size hole to pipe or spoon the caramel into.
I like to use a caramel sauce to fill the cupcakes, but if preferred, you can use a thicker caramel.
FAQs
Can I fill the cupcakes with another flavor?
Certainly! The sky is the limit on flavors for filling a chocolate cupcake. Try raspberry jam, cookies and cream filling, add some roasted nuts to the caramel, peanut butter sauce, etc…
I hope you enjoy these caramel filled cupcakes as much as my family and friends do!
Chocolate Cupcakes with Caramel Filling
These rich chocolate cupcakes are stuffed with a caramel filling and topped off with a rich fudge icing.
Equipment
Hand Mixer or

Cupcake Pans recipe makes 24 cupcakes

Cupcake Liners
Ingredients
Chocolate Cupcakes
75 Grams Cocoa Powder (3/4 cup) Use a combination of dark cocoa powder and regular cocoa powder for a richer chocolate taste and appearance.
260 Grams All Purpose Flour (2 cups) (2 cups)
400 Grams Granulated Sugar (2 cups)
2 TBSP Corn Starch
1 tsp Salt
2 tsp Baking Powder
1/2 tsp Baking Soda
3/4 Cup Vegetable or Canola Oil (6 fluid ounces)
4 Large Eggs Room temperature
1 1/4 Cup Brewed Coffee (10 fluid ounces) May substitute water
Fudge Icing
8 Fluid Ounces Heavy Cream (1 cup)
2 Fluid Ounces Light Corn Syrup (¼ cup)
350 Grams Bittersweet Chocolate, chopped into chunks (12 ounces)
85 Grams Unsalted Butter, room temperature (6 Tbsp / ¾ stick)
Caramel
4 Fluid Ounces Caramel Sauce, store bought or homemade (½ cup)
Instructions
Cupcakes
Preheat oven to 350°

Line the cupcake pans with liners.

Combine flour, sugar, cornstarch, salt, baking powder and baking soda in the bowl of a stand mixer. If mixing by hand or with a hand mixer, combine ingredients in a large mixing bowl.

Add oil and eggs and mix until combined.

Slowly pour brewed coffee into bowl while continuing to mix, scraping the bowl occasionally. The batter should be smooth.

Scoop the batter into the cupcake liners.

Bake for 20 – 24 minutes, or until cupcakes are fully risen and a toothpick inserted in the center of the cupcakes comes out clean.

Place cupcakes on a rack and allow to cool completely before filling and icing.
Fudge Icing
Place the chocolate in a bowl.

Combine cream and corn syrup and bring to a boil.

Pour cream/corn syrup over chocolate.

Let stand 2 – 3 minutes, then whisk until smooth.

Add softened butter and stir until smooth.

Allow the icing to sit at room temperature and cool until it is firm enough to spread or pipe.
Cupcake Assembly
Place an apple corer in the middle of each cupcake, press down about halfway into the cupcake, twist and remove the core of the cupcake.

Fill the hollowed center of the cupcake with caramel sauce.

Spread the fudge frosting over the cupcake or pipe onto the cupcake using a piping tip of your choice. Optional: drizzle caramel over fudge frosting.
Video