Coconut Custard Pie Recipe
This old-fashioned coconut custard pie has a creamy egg custard filling, just the right amount of sweetness and is loaded with coconut. This pie is super easy to make, mixes up in just 5 minutes and only requires a whisk, a bowl, a spatula and a pie crust to create.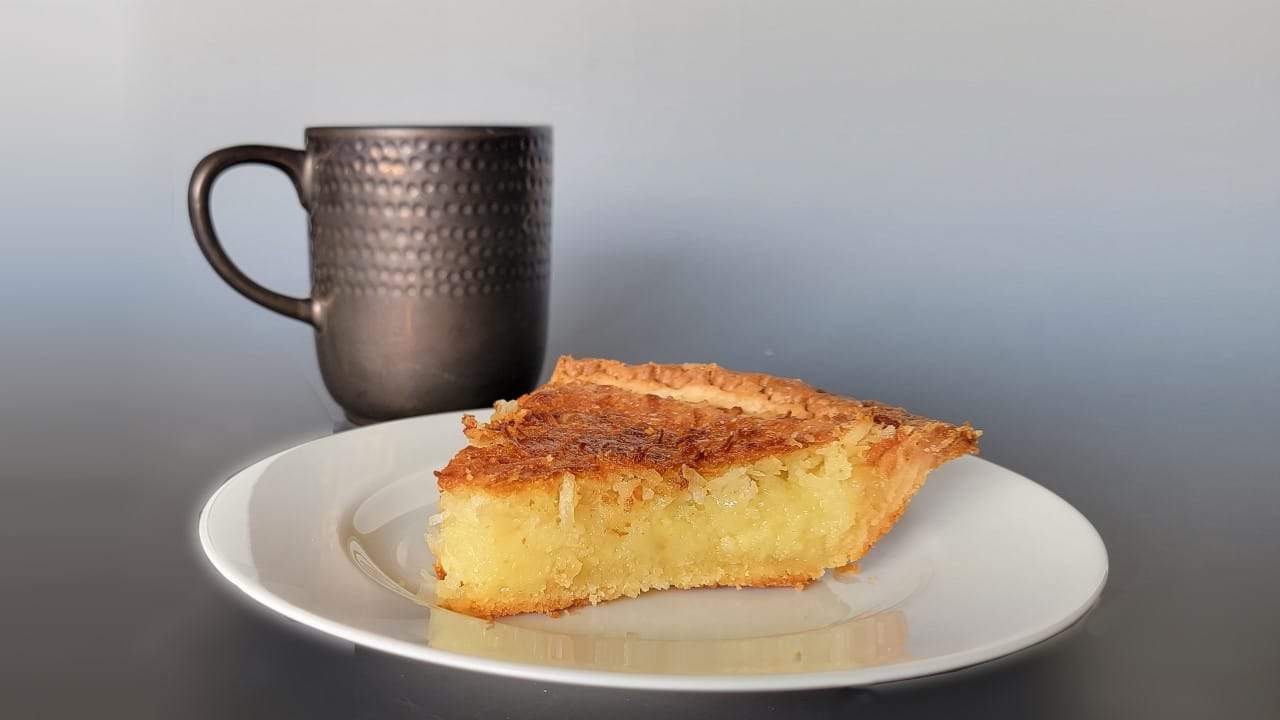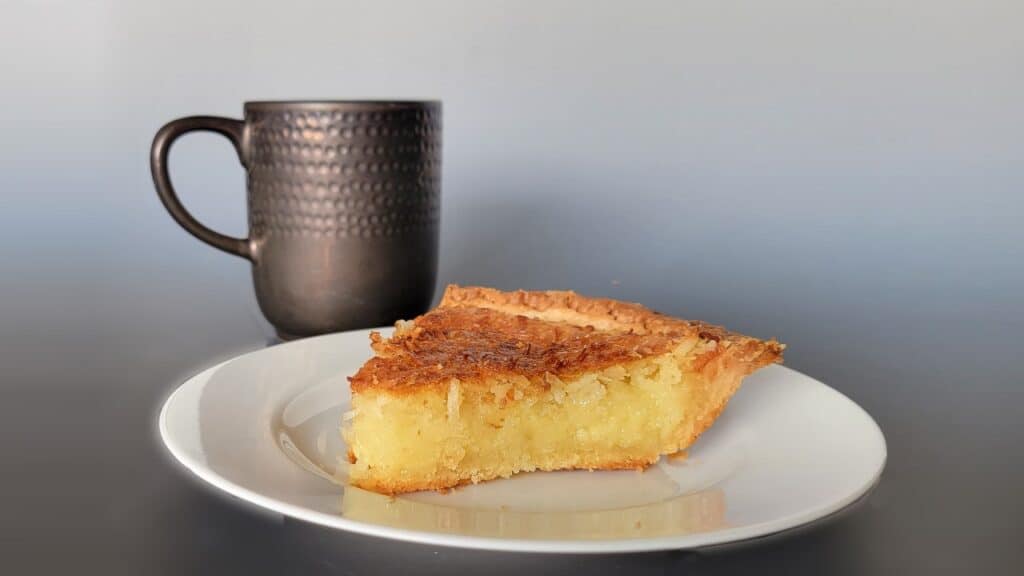 This post may contain affiliate links. Please refer to the terms page for more information.
Coconut custard pies are often a staple for holiday dinner desserts but it is a refreshing summer dessert also – just drizzle a little mango curd on your serving plates and over the top of the pie! Add a dash of nutmeg if creating for your holiday menu.
This pie is not too fancy and not too complicated to make – so grab your kids and have them help you create it.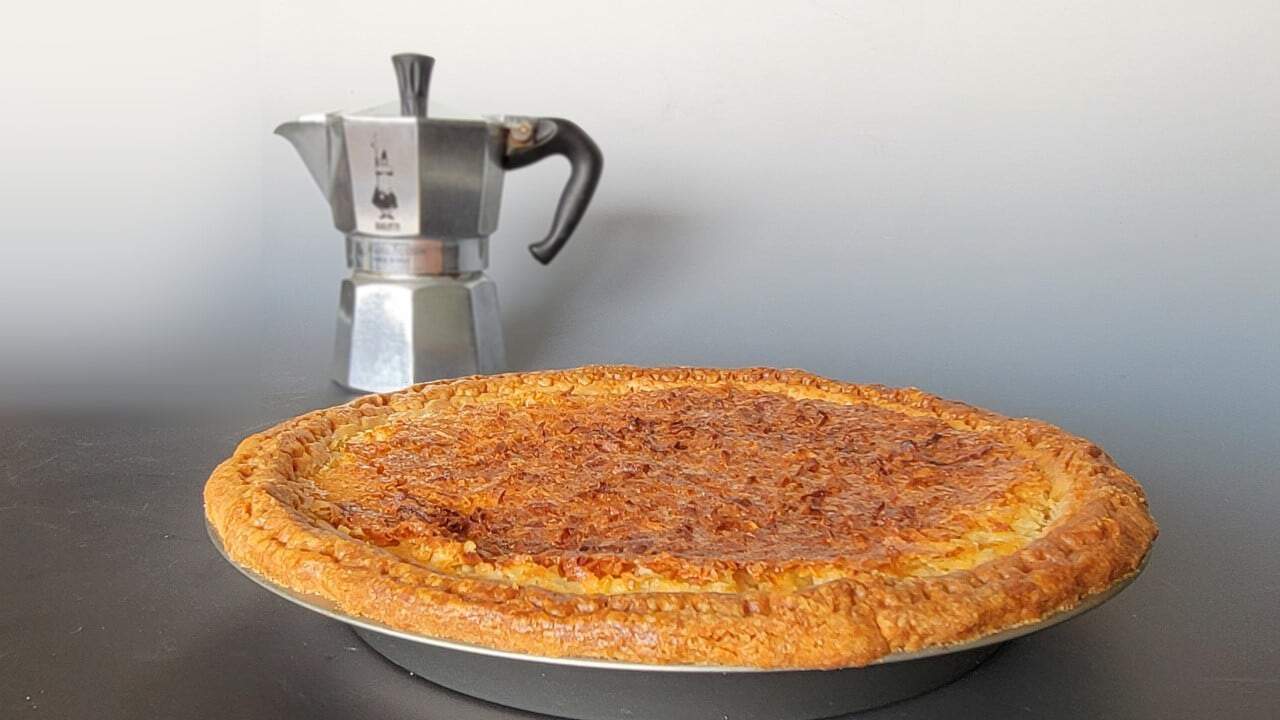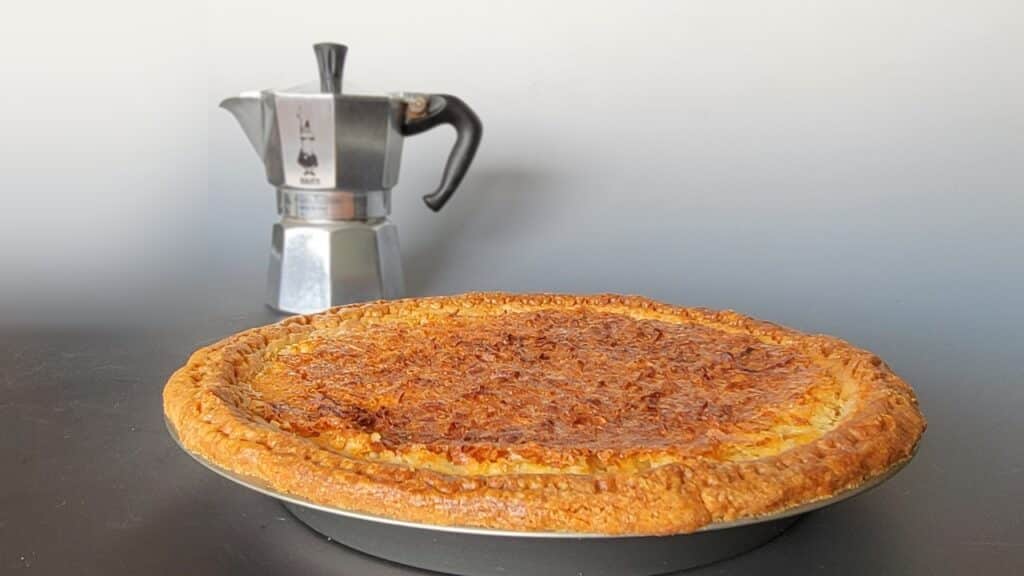 Tips for Making Pie:
Ingredients for the Egg Custard Pie with Coconut:
This pie is best baked in a sweet pie dough but a flaky pie dough will also work nicely. Note: this pie is also nice with a graham cracker crust. Also, the pie may be baked without a crust for a crustless coconut custard pie.
Bring the eggs and whole milk to room temperature before mixing the custard filling. Cold eggs and milk could cause the filling to separate. If you are in a hurry, simply warm the milk slightly in the microwave and place the eggs in a bowl of warm water for several minutes.
Use sweetened and shredded coconut for this pie. You don't need to toast your coconut before mixing the pie filling. We are sprinkling coconut on top of this pie prior to baking to create a crunchy top.
Making the Custard:

The ingredients for this coconut custard pie are added one after the other. Whisk gently but thoroughly after the ingredients are added. Fold in the shredded coconut.
Pie Crust
I recommend chilling your pie crust prior to baking the pie. This will reduce the chances the pie crust will shrink or burn. My Sweet Pie Dough works wonderfully with this pie as it produces a buttery soft crust and holds it's shape well during baking. Check out the recipe below:
Sweet Pie Dough
A sweet pastry dough, also known as pate sucree, is a rich and sweet pastry with a crisp cookie-like texture. It works beautifully for decorative crust work as it maintains its shape well while baking.
Check out this recipe
FAQs
Can I freeze a coconut custard pie?
I advise to not freeze an egg coconut custard pie. The custard may separate during the defrosting time.
What is a coconut custard pie vs a coconut cream pie?
Coconut Custard Pie is made with an egg and milk filling that sets up and thickens in the oven. Coconut Cream Pie is a custard, but it's cooked on the stove and placed in the refrigerator until set.
How do I know when my pie is finished baking?
You will know that the coconut custard pie is done when the center of the pie only wiggles slightly.
Does coconut custard pie have to be refrigerated?
Allow the pie to cool completely at room temperature. This will take approximately three hours. Once the pie is fully cooled, place in the refrigerator for storage. Allow the pie to come to room temperature prior to serving (approximately one hour). Note: never put a hot pie in the refrigerator.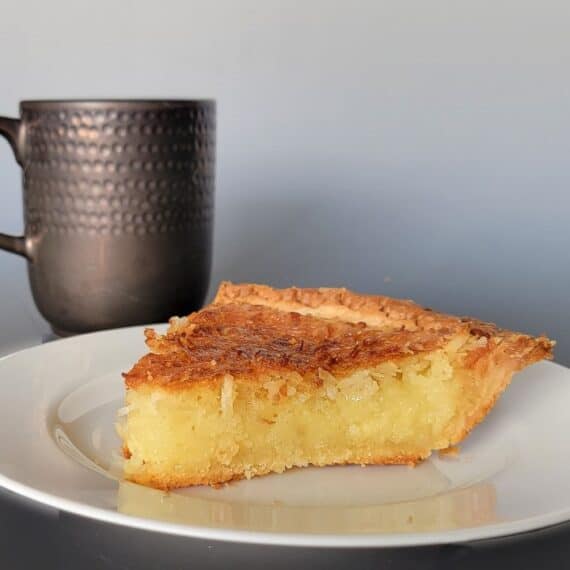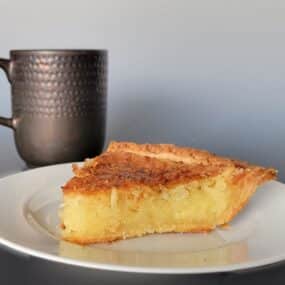 Coconut Custard Pie
This old-fashioned coconut custard pie has a creamy egg custard filling, just the right amount of sweetness and is loaded with coconut flakes.
Equipment
1 Pie Drip Catcher or

1 Cookie Sheet Pan
Ingredients
1 Pre-rolled pie crust My Sweet Dough recipe works wonderfully for this pie
2 Large Eggs, room temperature
4 Ounces Unsalted Butter, melted (1 stick)
7 Ounces Granulated Sugar (1 Cup)
2 Tbsp All-Purpose Flour
¼ tsp Nutmeg (optional)
¾ Cup Whole Milk, room temperature (6 fluid ounces)
1 ½ Cups Sweetened Shredded Coconut (for pie filling)
2 Tbsp Sweetened Shredded Coconut (for sprinkling over pie)
Instructions
Preheat oven to 350°

Melt butter and let cool slightly.

Add eggs to a bowl and whisk lightly.

Add sugar to the bowl and whisk lightly.

Add melted butter to the bowl and whisk lightly.

Add flour to the bowl and whisk lightly.

Optional: add nutmeg to bowl and whisk lightly.

Add milk to the bowl and whisk lightly.

Stir in 1 ½ cups coconut flakes.

Pour filling into pre-rolled 9" pie crust.

Sprinkle 2 tablespoons coconut flakes over top of pie.

Place on a cookie sheet pan or pie drip catcher. Bake for 45 – 50 minutes. Check pie after 35 minutes and cover crust with a pie shield or wrap loosely in foil if crust is turning too dark.

Cool for at least 2 hours before serving. Refrigerate leftovers – if you have any!
Video