Blueberry and Lemon Cookies Recipe
Our blueberry lemon cookies recipe offers a unique twist on traditional cookie flavors, providing a refreshing and unexpected combination of tastes. If you enjoy trying new flavor combinations or are looking for a different take on classic cookies, this recipe offers a delicious and distinctive option.
This post may contain affiliate links. Please refer to the terms page for more information.
Blueberries and lemon are known to complement each other in terms of flavor. Blueberries bring a natural sweetness and tanginess, while lemon adds a citrusy note. When combined in a cookie, the resulting flavor can be a delicious blend of sweet and tart, creating a unique and refreshing taste. The soft and chewy texture of this lemon blueberry cookie offers a delightful addition to the flavor.
Tips on making the Lemon Blueberry Cookies recipe:
Ingredients:
This is basic recipe for easy cookies with minimal ingredients:
All-purpose flour, baking soda, salt and granulated sugar
Unsalted butter and an egg: bring these ingredients to room temperature before starting the recipe.
Lemon: this recipe uses the juice and zest from a medium-sized lemon.
Blueberries: find the freshest and juiciest blueberries you can. Wash the blueberries and remove any stems before using.
Making the blueberry lemon cookies the same size:
A cookie scoop is a handy tool that helps you measure out the dough in consistent portions. Alternatively, use a measuring spoon or ice cream scoop to measure equal amounts of dough. Don't be concerned if some of the blueberries burst while scooping or baking - this adds to the appeal of the cookie!
FAQs
How do I store these cookies?
Store the cookies in an airtight container to keep them fresh. If storing multiple layers of cookies in the same container, place a sheet of wax paper between the layers to prevent them from sticking together. Leave at room temperature for up to 3 days. Alternatively, wrap the cookies in plastic and place in the freezer for up to 3 months.
Can I make the Blueberry Lemon Cookies without the blueberries?
Certainly! This recipe makes a refreshing and zesty lemon cookie without the blueberries.
Can I use frozen blueberries in this recipe?
Yes, frozen blueberries are fine to use in this recipe. Defrost the blueberries, drain the juices and place on a paper towel to absorb any excess juice.
I hope you enjoy these lemon blueberry cookies as much as my friends and family do!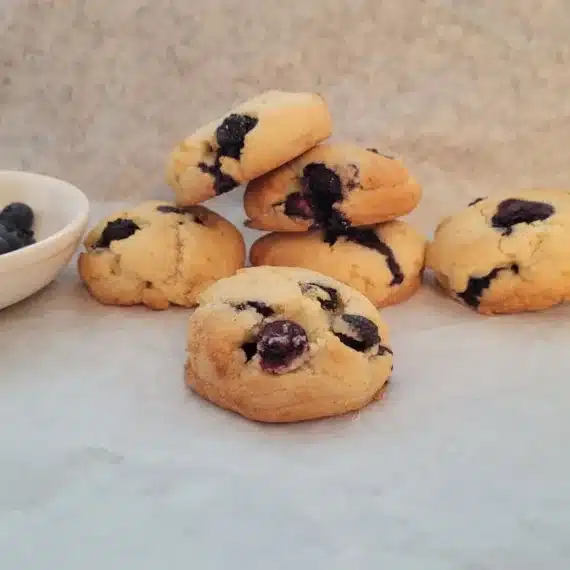 Blueberry Lemon Cookies
A Blueberry Lemon Cookie with the perfect balance of tartness and sweetness.
Ingredients
240 Grams All Purpose Flour (2 Cups)
½ teaspoon baking soda
1 teaspoon Salt
1 tablespoon Lemon Zest (approximately 1 lemon)
1 tablespoon Lemon Juice (approximately 1 lemon)
200 Grams Granulated Sugar (1 Cup)
114 Grams Butter, room temperature (4 ounces or 1 stick)
1 Large Egg, room temperature
½ Pint Fresh Blueberries (1 cup)
Instructions
Preheat oven to 350°

Prepare 2 baking sheets by lining with parchment paper.

In a medium bowl, whisk together flour, baking soda, salt and lemon zest.

Using a stand-mixer with the paddle attachment, begin creaming the butter and granulated sugar until light and fluffy (approximately 2 - 4 minutes on medium speed). Scrape the bowl as needed.

Add the egg and lemon juice and mix on low speed until incorporated.

Add the flour mixture and mix on low speed until combined.

Gently fold the blueberries into the cookie dough.

Scoop the dough onto the parchment-lined baking sheets using a small cookie scooper (approximately 1 ½ tablespoon per cookie). Leave approximately 2 inches of space between each cookie.

Bake cookies for 10 - 12 minutes or until the tops are a pale golden color.

Let cookies cool on the baking sheets for 5 to 10 minutes, then transfer them to a wire rack to cool completely. 
Video