Chocolate Nutella Banana Braid in Puff Pastry
Chocolate Hazelnut Banana Puff Pastry Braid: One of my most popular flavor combinations at the bakery is chocolate hazelnut cream (Nutella) and bananas. This combination is also a big winner at family gatherings when my French brother-in-law makes his famous crepes filled with Nutella and bananas - yum!! I don't know many people who will turn down and banana Nutella dessert!
This post may contain affiliate links. Please refer to the terms page for more information.
This Chocolate Hazelnut Banana Braid in puff pastry is one of those dessert recipes I can't resist nibbling on. As with most puff pastry desserts, this creation is best served the day it is made. That is when the flakiness of the dough is at its prime.
What Puff Pastry to use for this Dessert?
Puff pastry may be made by hand or purchased from the freezer department. Making your own puff pastry is time consuming and requires patience. I prefer to make large batches so I always have some in the freezer. There are many good brands of frozen puff pastry available. When you need a quick dessert simply purchase a brand such as Pepperridge Farms.
Feel free to sprinkle some toasted hazelnuts on top of the bananas for added texture and test for this delicacy!
How to Store the Banana and Nutella Puff Pastry Dessert:
It is best you make this recipe the day of or day before you plan to serve it. Store the pastry dessert in an airtight container and leave at room temperature.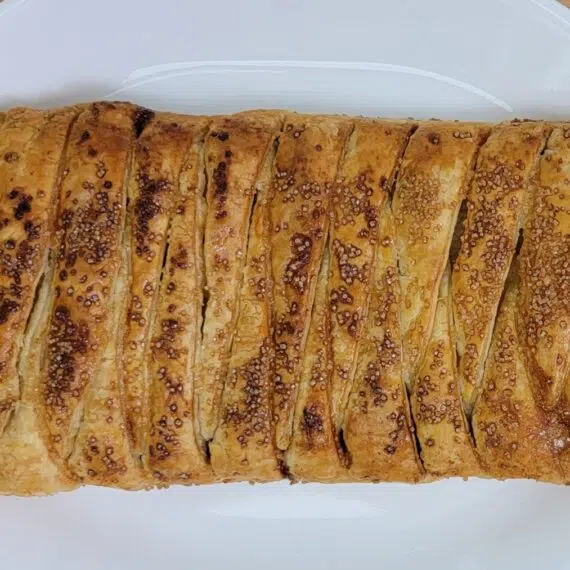 Chocolate Hazelnut Banana Braid (in Puff Pastry)
Chocolate hazelnut cream and bananas baked in a flaky pastry dough. Delicious an easy!
Ingredients
1

Sheet

Puff Pasty

¾

Cup

Chocolate Hazelnut Spread

1

Large

Banana, cut into ¼" slices

1

Large

Egg, lightly whipped

(for brushing on puff pastry)

1

tablespoon

Raw Sugar or Granulated Sugar (optional)

(for sprinkling on puff pastry)
Instructions
Slice banana into ¼" slices

Unfold puff pastry. Using an offset spatula or spoon, spread the chocolate hazelnut onto the middle third of the pastry sheet.

Cut 1" diagonal slits into both sides of the pastry (next to the hazelnut spread).

Cut off the 4 corner triangles of puff pastry and discard. Alternately working from each side of the pastry, fold the diagonal slits over each other to create a braided look.

Brush the top of the pastry braid with the whipped egg and optionally sprinkle with the sugar.

Bake for 15 - 18 minutes at 375°. Pastry will be golden and cooked through when it is done.

Remove from oven and allow to cool 10 - 15 minutes before serving. Pastry is best served the day it is made.