Easy Chocolate Pie Crust Recipe
This homemade chocolate pie crust is a welcome addition to any recipe box. This easy to make dough produces a crust that bakes up crispy and buttery.
This post may contain affiliate links. Please refer to the terms page for more information.
This chocolate pie crust recipe works well for single or double crust pies. It rolls out beautifully without being crumbly or dry. Additionally, it can be used as a press-in pie crust if you aren't in the mood for rolling out pie dough!
Tips for making the chocolate pie dough:
Ingredients:
Just five ingredients are needed to create the chocolate pie crust:
All-purpose flour: I prefer to use an unbleached flour for all my recipes but any brand will work fine.
Cocoa powder: I recommend sifting the cocoa powder with the flour prior to starting the recipe. Any cocoa powder works well in this recipe. If you want an extra dark crust use half regular cocoa powder and half black cocoa powder.
Unsalted butter: the butter should be brought to room temperature before starting the recipe (65° to 70° F)
Confectioners' sugar
Egg: use a room temperature egg. This recipe uses the 'creaming method' for creating the dough. A cold egg will cause the creamed butter and sugar to separate during mixing.
Blind bake the chocolate pie crust:
This crust recipe works well with so many pie fillings. It is especially nice with cream pies. Since cream pies are not baked the crust needs to be baked prior to adding any filling. This is referred to as 'blind baking.' Follow the steps listed below to fully bake the pie crust:
Time needed: 25 minutes.
Poke holes in dough

Using a fork, poke holes through the pie dough. This will help prevent the dough from rising during baking. Place the crust in the fridge and preheat the oven to 350° F. Putting the dough in the fridge will allow the gluten to relax and will minimize shrinkage while baking.

Bake the crust

Once the oven reaches 350°, remove the pie pan from the fridge. Place a sheet of foil or parchment over the dough. Pour pie weights or dried beans into the pan. Bake for 15 minutes with the weights. Remove the weights and bake an additional 10 - 15 minutes or until the crust looks done.
I hope you enjoy numerous pies using this delicious chocolate pie crust recipe! One of my favorite pie fillings for this crust is my Peanut Butter mousse filling.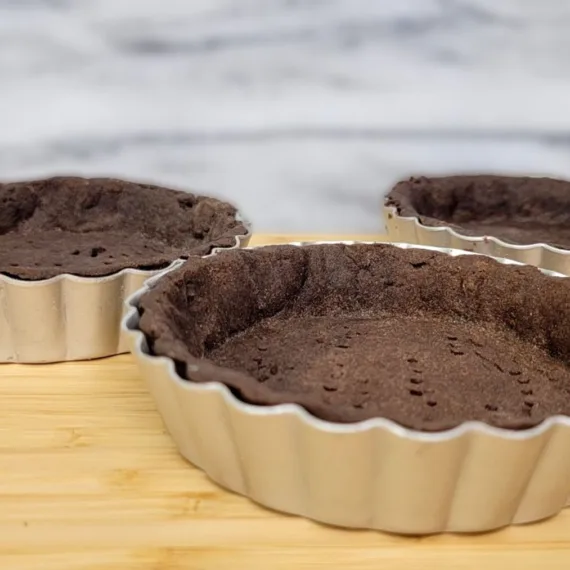 Chocolate Pie Crust
An easy and delicious chocolate pie crust recipe. May be used as a 'press-in' crust or a rolled crust.
Ingredients
1

ounce

cocoa powder

(½ cup less 1 tablespoon)

7

ounces

all-purpose flour

(1 ⅝ cups)

6

ounces

unsalted butter, softened

(1 ½ sticks or 12 tablespoons)

3

ounces

confectioners' sugar, sifted

(¾ cup)

1

large

egg, room temperature
Instructions
Sift the flour and cocoa powder together.

Place butter and confectioners' sugar in a mixing bowl. Using the paddle attachment, cream together until well combined and the mixture is smooth and pale (note: a hand mixer may also be used)

Add the egg and mix well.

Add the cocoa powder and flour. Mix until the dough starts to come together (it will appear crumbly).

Empty dough onto a work surface and knead a few times until the dough comes together. Wrap in plastic and refrigerate for 1 hour before using. Note: if making a 'press in crust' the dough may be used immediately.

To roll out the dough: sprinkle work surface with flour and roll dough to desired thickness