Easy Pumpkin Chiffon Tart Recipe – Video Instructions
This recipe produces a light, creamy and fluffy pumpkin chiffon that is poured into a sweet dough crust and chilled for a few hours before serving. For years this pumpkin chiffon pie has been a favorite among my bakery customers and I hope you add it to your favorites!
This post may contain affiliate links. Please refer to the terms page for more information.
As much as I adore pumpkin pie I prefer to make this tart over the holidays. My guests are always 'wowed' by this dessert – it so creamy and has a lovely pumpkin and spice flavor. The recipe is easy to make. Additionally it is a versatile dessert and may be used for a no-bake pumpkin chiffon pie, a cake filling or parfait cups.
Tips for Making the Tart:
First, allow yourself at least 4 hours to make this tart. It will need to set up in the fridge for a few hours before serving. This dessert is best made with a 9″ tart pan using a pre-baked sweet dough. Please check out my Sweet Dough recipe which works beautifully with this tart filling.
Use pumpkin puree – not pumpkin pie filling. You may certainly make your own pumpkin puree but it is a time-consuming process. If you've every wondered how companies make pumpkin puree, check out this article by Libby's.
Process to make the chiffon:
The first step to making the pumpkin silk chiffon pie is to measure all your ingredients. First, sprinkle the powdered gelatin over cold water and set aside. Next, mix the pumpkin puree, whole milk, brown sugar, egg yolks and spices together in a heat-proof bowl (note: save the egg whites – you will be whipping these later in the recipe).
Fill a saucepan with 1″ of water and bring the water to a simmer. You do not want the water boiling. Place the bowl with the pumpkin mixture over the simmering water and stir occasionally (note: you do not want the bottom of the bowl touching the simmering water). Continue to stir occasionally until the mixture reaches a temperature between 160 and 180 degrees (F) – this may take up to 20 minutes. At this point, turn off the heat and add the set gelatin to the bowl and stir until melted.
Next begin whipping the egg whites. Once the egg whites become foamy, begin adding the granulated sugar slowly while whipping the whites. Continue to whip the egg whites to medium peaks than gently fold into the pumpkin mixture. Your chiffon is ready to pour into your prebaked crust. Place in the refrigerator for 2 hours or until fully set.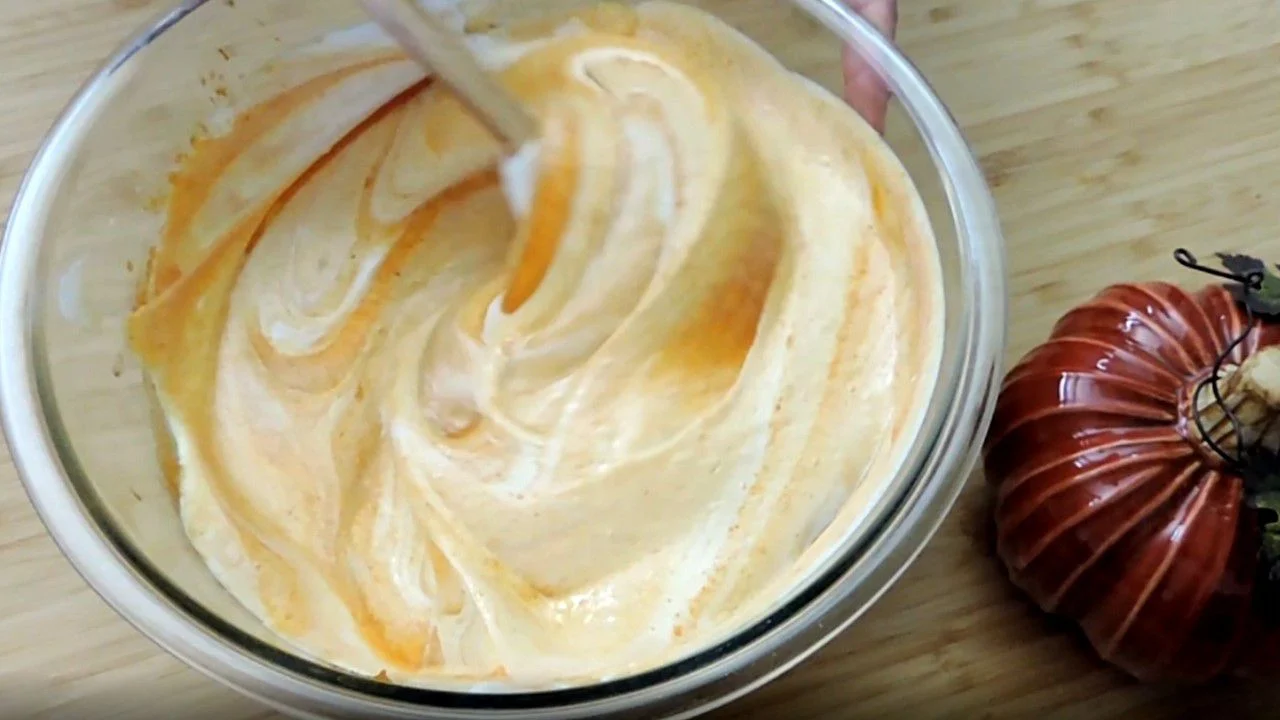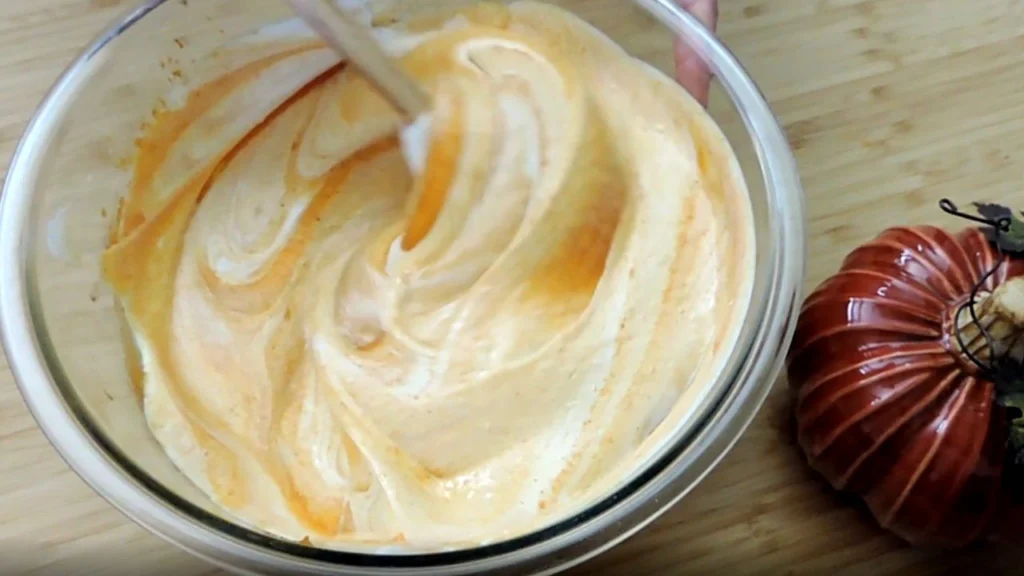 Decorate your pumpkin chiffon tart anyway you desire – let your imagination take over! Perhaps add a little sweetened, cinnamon whipped cream? or sprinkle ginger cookie crumbles over the top? or add some toasted pecans and caramel?
You may have some leftover pumpkin chiffon depending on how thick your crust is and how large your tart pan is. Leftovers may be frozen for up to 3 months – or better yet, make individual parfaits for your guests.
FAQs
Can I make pumpkin chiffon without gelatin?
You need gelatin for the chiffon to set properly. I have made the recipe for parfait dessert glasses without gelatin since it is poured into serving dishes.
What is pumpkin chiffon pie versus pumpkin pie?
Chiffon is light, airy and mousse-like whereas a pumpkin pie is a thicker custard-like dessert. It is made heated over a double-boiler and a pumpkin pie is baked in an oven.
I hope you enjoy this dessert as much as my family, friends and customers do!
Pumpkin Chiffon Tart
The perfect alternative to a pumpkin pie – a light, airy and pumpkin silk chiffon filling in a sweet tart dough.
Ingredients
1 9" Pre-Baked Tart Shell Check out our sweet dough recipe
300 Grams Pumpkin Puree (do not use pumpkin pie filling) 1 ¼ cup
150 Grams Light Brown Sugar ¾ cup
4 Large Egg Yolks (save the whites – you need these later in the recipe)
4 Fluid Ounces Whole Milk ½ cup
½ tsp Salt
1 tsp Ground Cinnamon
¼ tsp Ground Ginger
¼ tsp Ground Nutmeg
10 Grams Powdered Gelatin (1 TBSP)
3 Tbsp Cold Water For dissolving gelatin
4 Large Egg Whites Preferably room temperature – the whites will whip better at room temp.
100 Grams Granulated Sugar (½ cup)
Instructions
Sprinkle the powdered gelatin over the cold water and set aside to allow gelatin to set.

Combine pumpkin puree, brown sugar, milk, egg yolks, salt, cinnamon, ginger and nutmeg into a heat-proof bowl. Whisk well to combine.

Bring a pot of water to a low steam. Place the bowl on top of the pan of steaming water. Notes: 1) the bottom of the bowl should not touch the water, and 2) the water should not be boiling.

Stir the pumpkin mixture occasionally (every 3 – 5 minutes). Continue to heat the mixture until it reaches 160° F – 180° F.

Add the set gelatin to the bowl and whisk until the gelatin is completely melted.

Remove the bowl from the heat and set aside to cool slightly.

Place the egg whites in a clean bowl. Begin mixing using a hand mixer or stand mixer with the whisk attachment. Mix on medium speed until the egg whites appear foamy. Continue mixing while slowly pouring in the granulated sugar. Continue to mix until egg whites reach medium peaks.

Gently fold the egg whites into the cooled pumpkin mixture.

Pour the pumpkin chiffon into the pre-baked tart shell and smooth the top.

Place tart in refrigerator until set (approximately 2 hours).

Decorated as desired (e.g. whipped cream, powdered sugar, etc…). Enjoy!
Video